Charlottesville Plaintiffs File Motion for Default Judgement Against Neo-Nazi Hate Group Nationalist Front
By: Integrity First For America Press Releases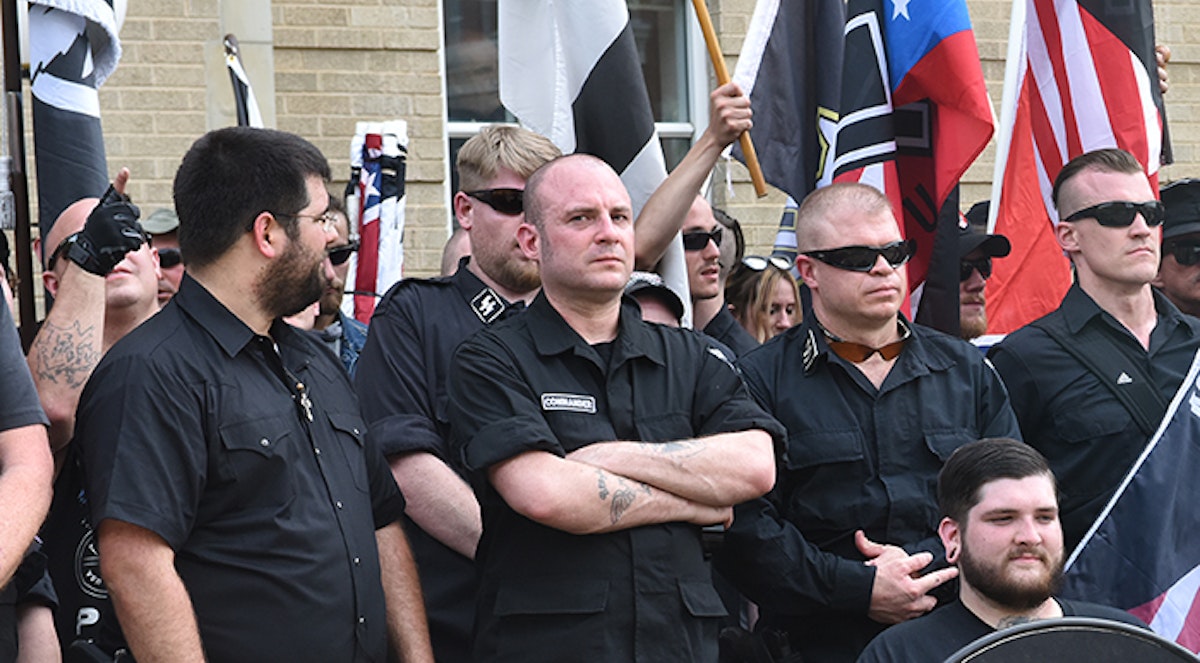 SPLC
Plaintiffs in Integrity First for America's Suit Detail Nationalist Front's Central Role in Charlottesville Violence, Total Refusal to Participate in Litigation; Nationalist Front's Own Lawyer Consents to the Motion
Last Week's Capitol Attack Closely Followed Charlottesville Playbook
Trial is Scheduled This Year in Federal Court in Charlottesville; Default Has Already Been Entered Against Six Other Defendants and Plaintiffs Have Secured Extensive Financial and Evidentiary Sanctions
CHARLOTTESVILLE – Plaintiffs in Sines v. Kessler—the federal lawsuit backed by Integrity First for America against the individuals and hate groups responsible for the August 2017 Charlottesville violence—today filed a motion for entry of default against neo-Nazi defendant Nationalist Front.
The motion details Nationalist Front's central role in the conspiracy responsible for the Charlottesville violence and its total refusal to take part in this litigation: failing to disclose social media accounts or electronic devices; produce documents or provide meaningful responses to discovery requests; designate a representative; or sit for multiple noticed depositions. Plaintiffs have conferred with counsel for Nationalist Front, W. Edward ReBrook, IV, who consents to the motion.
Default has already been entered against six other defendants: Andrew Anglin; Moonbase Holdings, LLC; East Coast Knights of the Ku Klux Klan; Fraternal Order of the Alt-Knights; Augustus Sol Invictus; and Loyal White Knights of the Ku Klux Klan. Plaintiffs have also won extensive financial and evidentiary sanctions, in addition to jail time, against other defendants.
Nationalist Front was an umbrella organization of neo-Nazis, white supremacists and other racist far-right extremists, which sought to achieve unity within the white supremacist movement with a goal of a white ethno-state.
As detailed in the complaint, members of Nationalist Front were core participants in the racist, violent conspiracy that injured plaintiffs during Unite the Right. At the time, Nationalist Front was led by defendants Jeff Schoep (also commander of defendant National Socialist Movement), Matthew Heimbach (also chairman of defendant Traditionalist Worker Party), and Michael Hill (also co-founder and president of defendant League of the South), as well as Dillon Ulysses Hopper (leader of defendant Vanguard America).
At Unite the Right, various Nationalist Front member organizations engaged in violence and intimidated residents of Charlottesville, including joining to "help create two shield walls" for "the fight." After the violence, defendant Schoep proclaimed on Twitter: "It was an Honor to stand with U all in C'Ville this weekend. NSM, NF, TWP, LOS, VA, ECK, CHS, and the rest, true warriors!"
Defendant Jeff Schoep submitted a certification of his electronic devices and social media accounts that he signed on behalf of himself, National Socialist Movement, and Nationalist Front. However, that certification identified just three devices and accounts belonging to Schoep individually or to NSM—a Twitter account, a VK account, and Schoep's personal iPhone—but no device or account that appeared to be associated specifically with Nationalist Front.
Nationalist Front subsequently disappeared from the litigation. During his July 2020 deposition, Schoep testified that he was not Nationalist Front's representative and no Nationalist Front representative appeared for any noticed depositions.
"At a moment when the urgency of holding extremists accountable is clear, we're committed to winning justice in Charlottesville," said Integrity First for America Executive Director Amy Spitalnick. "These neo-Nazi defendants wrote the playbook that we later saw at the Capitol—and then repeatedly flouted court orders, the rule of law, and their obligations in this suit. Our plaintiffs haven't hesitated to hold them to account, and we will continue to do so."
Integrity First for America's lawsuit details how the defendants meticulously planned the Charlottesville violence for months in advance, including via the social media platform Discord—a playbook followed closely in last week's Capitol attack.
The plaintiffs are a coalition of Charlottesville community members injured.
Trial is scheduled for this year in federal court in Charlottesville.
###
Integrity First for America (IFA) is a nonpartisan nonprofit organization dedicated to holding those accountable who threaten longstanding principles of our democracy—including our country's commitment to civil rights and equal justice. IFA is backing the landmark federal lawsuit against the two dozen neo-Nazis, white supremacists, and hate groups responsible for the August 2017 violence in Charlottesville. Trial is scheduled for this year. To learn more about the case, click here.