How is IFA's suit making an impact?
By: Integrity First For America Blog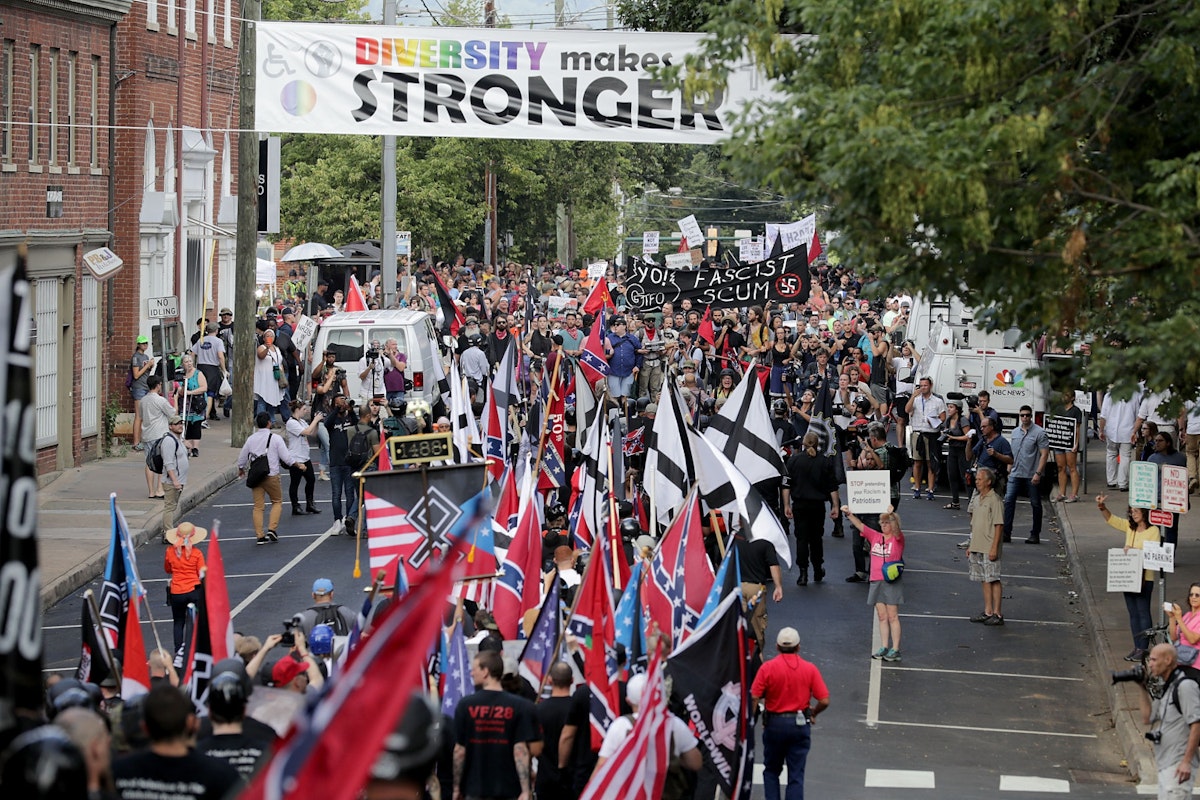 Photo by Chip Somodevilla/Getty Images
In June 2020, neo-Nazi defendant Richard Spencer told the court that our Charlottesville lawsuit is "financially crippling," and complained that he can't raise money because he has been deplatformed from various sites.
As Spencer's comments illustrate, IFA's Charlottesville lawsuit has already had major financial, legal, and operational impacts on the neo-Nazi and white supremacist defendants — even before we get to trial. By bankrupting and dismantling the groups and leaders at the center of this violent movement, IFA's case will ensure those responsible for the violence are held accountable and win justice for our plaintiffs — with impacts that extend well beyond Charlottesville.
Sanctions and Jail Time
The court has granted a number of our plaintiffs' motions for sanctions against the defendants:
A number of defendants are also facing additional pending sanctions motions.
Default Judgment
Default has already been entered against six defendants: Andrew Anglin; Moonbase Holdings LLC; East Coast Knights of the Ku Klux Klan; Fraternal Order of the Alt-Knights; Augustus Invictus; and Loyal White Knights of the KKK.
Plaintiffs have a pending motion for entry of default against another defendant, Nationalist Front.
Other Consequences
Experts in extremism have highlighted how IFA's lawsuit has driven some extremists out of the white supremacist movement, caused disruption to these groups and their leaders, and deterred other extremists from engaging in similar activity.
A few defendants have tried to rebrand. Identity Evropa now calls itself American Identity Movement; Vanguard America members have also rebranded as Patriot Front. No matter how they may rebrand, our team will ensure they face accountability for their actions in Charlottesville.

Other defendants have claimed they are leaving the white supremacist movement, although many have doubts. As we've said, if these defendants truly want to change, there is one way to do so: comply with our plaintiffs' discovery requests, stop lying, and tell the truth about their role in what happened in Charlottesville in August 2017. Anything less is a sham. We live in a country of laws. If Mr. Schoep and Mr. Heimbach have truly reformed their old ways, then they need to demonstrate that by complying with the law, cooperating in our case, and taking responsibility for their actions.

Other defendants have complained about the case's impact.
In addition to his comments about the suit being "financially crippling," Richard Spencer has said that, "This lawsuit that I'm facing is just totally detrimental to what I'm doing. I don't want to go into some public event where I could be blamed if something goes wrong." He went on to say, "If we can simply be sued if anyone on the other side gets hurt, we can't do anything publicly. This [lawsuit] needs to be answered. I'm just not ready to do something right now and if I do, it is going to be on my own terms."
Michael Hill of League of the South blamed the suit when his hate group could not open a new building; "I want us to have a new League building in Alabama..." "...But because of pending lawsuits, we are not going to be moving forward officially with fundraising at this time."
A number of other defendants, including National Socialist Movement, Identity Evropa, the Daily Stormer, and Christopher Cantwell, have complained that the cost of the litigation – combined with being deplatformed from payment processors – has hurt them financially.
These impacts are all separate and on top of the major financial judgments our plaintiffs expect to win at trial this year — making clear that there will be very real financial and legal consequences for participating in these racist, violent conspiracies.