Charlottesville Plaintiffs File New Motions to Compel Discovery from Defendants National Socialist Movement and Robert "Azzmador" Ray
By: Integrity First For America Press Releases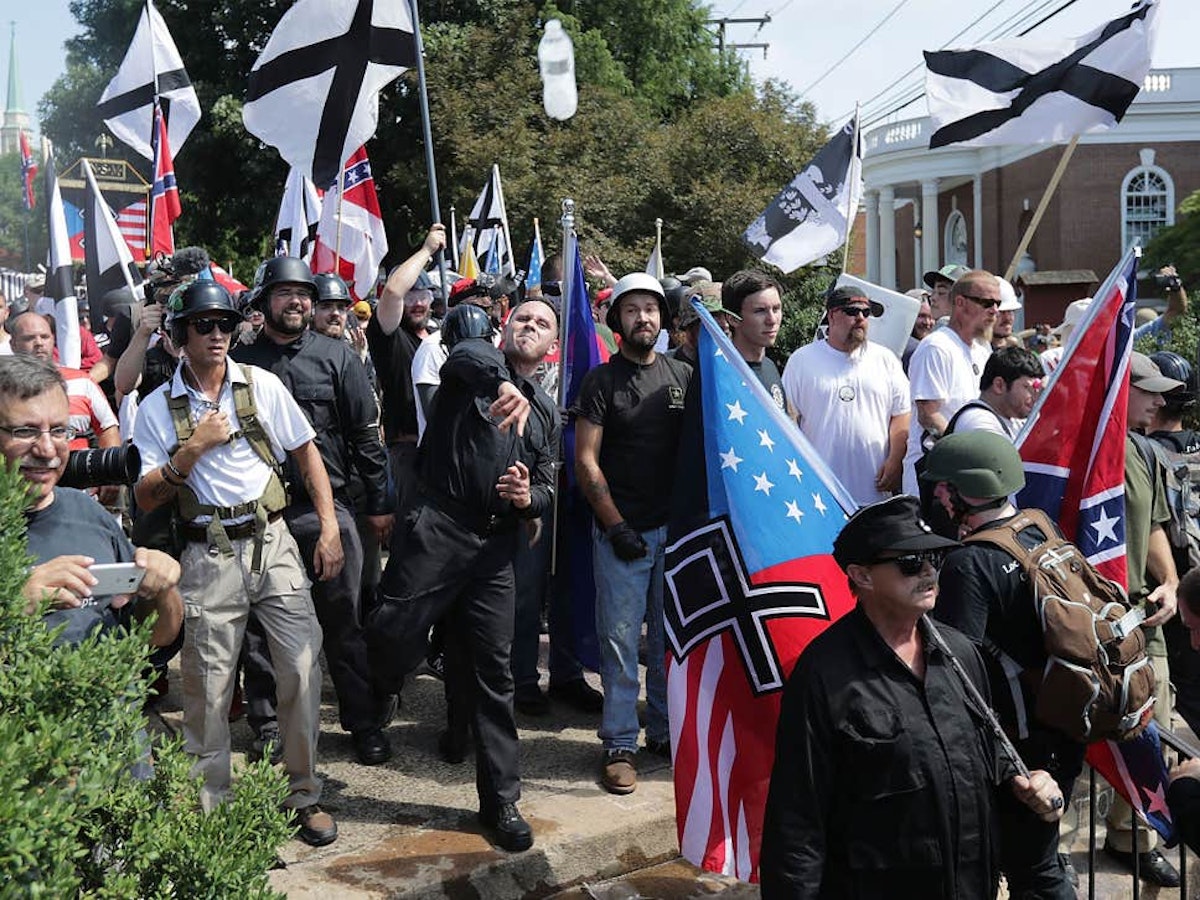 Chip Somodevilla/Getty Images
Neo-Nazi Defendants Continue to Try to Avoid Accountability in Sines v. Kessler, the Landmark Federal Lawsuit Backed by Integrity First for America Against those Responsible for the Charlottesville Violence

Trial Scheduled for October 2020; Other Defendants Have Already Faced Significant Monetary Sanctions – and Jail Time – for Flouting Discovery Orders
CHARLOTTESVILLE – Plaintiffs in Sines v. Kessler – the landmark federal lawsuit backed by Integrity First for America against the neo-Nazis, white supremacists, and hate groups responsible for the Unite the Right violence – filed new motions to compel discovery from two key defendants: neo-Nazi hate group National Socialist Movement (NSM) and neo-Nazi Robert "Azzmador" Ray.
NSM and Ray were key organizers of the Unite the Right violence in Charlottesville over August 11 and 12, 2017. The lawsuit backed by IFA details how the defendants meticulously planned the violence for months in advance (including via social media and other online channels).

The plaintiffs are a coalition of Charlottesville community members injured in the violence. They have repeatedly sought to hold the defendants accountable for their actions and discovery obligations. Trial is scheduled for October 2020.

The plaintiffs first served NSM with discovery requests in January 2018; over two years later, NSM has not produced a single document to the plaintiffs, even though the plaintiffs have identified numerous documents in the organization's possession that it has refused to turn over.

Even more egregiously, NSM has tried to avoid the lawsuit through underhanded tactics. First, its former Commander (and fellow defendant in this lawsuit) Jeff Schoep attempted to transfer ownership of NSM to activist James Stern in order to avoid any liability he might face. Then, NSM's new Commander Burt Colucci reincorporated NSM in another state and falsely claimed that the new organization was not subject to discovery in the lawsuit.

The plaintiffs are urging the court to require NSM to immediately turn over electronic devices and social media credentials in Colucci's possession, and to conduct an investigation into any other NSM members who may have responsive documents. As today's motion to compel explains, NSM cannot avoid the discovery process by trying to scam the plaintiffs and court through these underhanded tactics.

Similarly, neo-Nazi defendant Robert "Azzmador" Ray has been withholding critical evidence -- refusing to produce what is likely some of the most compelling evidence of the Unite the Right violence, including video footage taken by Ray's own cameraman. He has withheld one of his computers for nearly a year; and plaintiffs have also discovered an additional cell phone that Ray told fellow defendant Christopher Cantwell to use during Unite the Right, which Ray failed to disclose in the discovery process.

Additionally, Ray discussed Unite the Ray on sites like the Daily Stormer and The Krypto Report, but has refused to turn over his credentials to those sites – claiming he can't remember them despite actively posting on those sites to this day.

"These defendants have tried every trick in the book to avoid accountability for the racist violence they brought to Charlottesville. Our plaintiffs have made clear they won't let them – winning critical sanctions motions and fighting to ensure they can't skirt liability," said IFA Executive Director Amy Spitalnick. "We're committed to doing what's necessary to hold these neo-Nazis, white supremacists, and hate groups accountable for their actions."

Other defendants have already faced significant sanctions for flouting discovery orders. In January, defendant Elliott Kline (aka Eli Mosley) was thrown in jail and sanctioned thousands of dollars; last year, the plaintiffs won sanctions against defendants Kline, Matthew Heimbach, Vanguard America, and Jeff Schoep.
###
Integrity First for America (IFA) is a nonpartisan nonprofit organization dedicated to holding those accountable who threaten longstanding principles of our democracy—including our country's commitment to civil rights and equal justice. IFA is backing the landmark federal lawsuit against the two dozen neo-Nazis, white supremacists, and hate groups responsible for the August 2017 violence in Charlottesville. Trial is scheduled for October 2020. To learn more about the case, click here.