Charlottesville Plaintiffs File New Sanctions Motion Against Neo-Nazi Defendant Elliott Kline (AKA Eli Mosley)
By: Integrity First For America Press Releases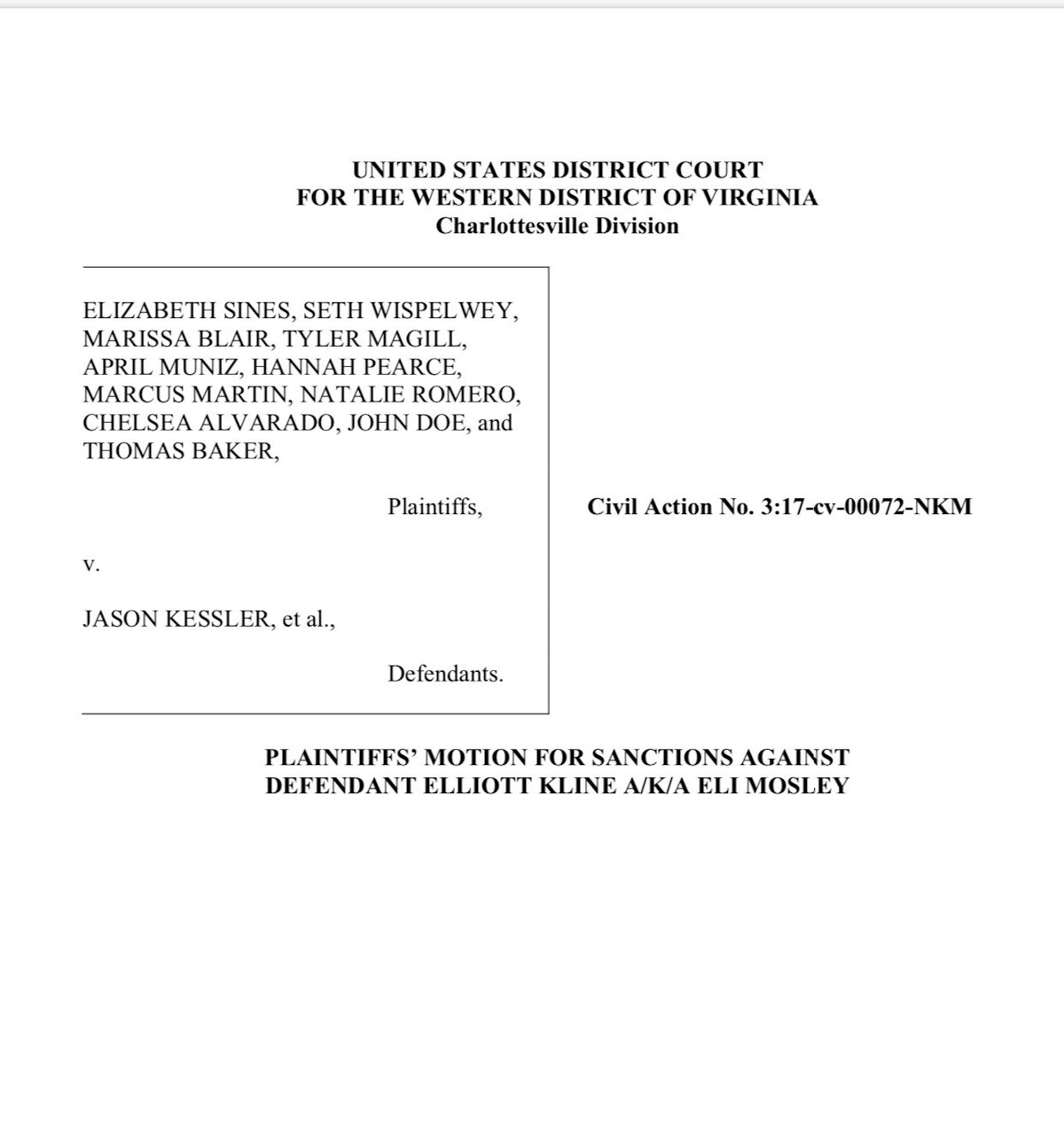 Sanctions Motion 9.26.19
Kline Has Willfully Defied Court Orders, Failing to Comply with Discovery Obligations in the Landmark Federal Suit Backed by Integrity First for America
Plaintiffs Urge Court to Issue Bench Warrant for Kline's Arrest; Court Has Previously Made Clear that Harsher Sanctions - Including Arrest - are on the Table
CHARLOTTESVILLE - Plaintiffs in Sines v. Kessler -- the landmark federal lawsuit backed by Integrity First for America against the neo-Nazis, white supremacists, and hate groups responsible for the Unite the Right violence – filed a new motion for sanctions against neo-Nazi defendant Elliott Kline (a/k/a Eli Mosley). The plaintiffs have asked the court to issue a bench warrant for Kline's arrest, among other remedies.
Kline was a primary organizer of the Unite the Right violence in Charlottesville over August 11 and 12, 2017 and a former leader of the white supremacist hate group Identity Evropa, another defendant in Sines v. Kessler. The lawsuit details how Kline and his fellow defendants meticulously planned the violence for months in advance, including via the online chat platform Discord.
The plaintiffs have repeatedly sought to hold Kline accountable for his actions and discovery obligations. In August 2019, the court issued monetary sanctions against Kline for his failure to cooperate with discovery. In that decision, the court also left the door open to even harsher sanctions depending on the defendants' future compliance with their discovery obligations.
Nearly two months later, Kline has willfully defied the court, complying with virtually none of his discovery obligations.
As the motion details, "Kline is, yet again, in willful defiance of 'his long overdue discovery obligations.' Despite the Court's repeated Orders, the Court's imposition of attorneys'fees, and even the Court's warning that Kline's continued misconduct could result in arrest, Kline continues to ignore the Court's Orders and Plaintiffs' communications with impunity."
"As Kline's misconduct has repeatedly demonstrated, he is not to be trusted to participate in good faith in this litigation. The Court should issue the strongest possible sanctions to make clear, in no uncertain terms, that such behavior cannot and will not be tolerated," the motion concludes.
Read the full sanctions motion here.
###
Integrity First for America (IFA) is a nonpartisan nonprofit organization dedicated to holding those accountable who threaten longstanding principles of our democracy—including our country's commitment to civil rights and equal justice. IFA is backing the landmark federal lawsuit against the two dozen neo-Nazis, white supremacists, and hate groups responsible for the August 2017 violence in Charlottesville. To learn more about the case, click here.