Charlottesville Plaintiffs Highlight Neo-Nazi Defendant Cantwell's Continued Promotion of Violence
By: Integrity First For America Press Releases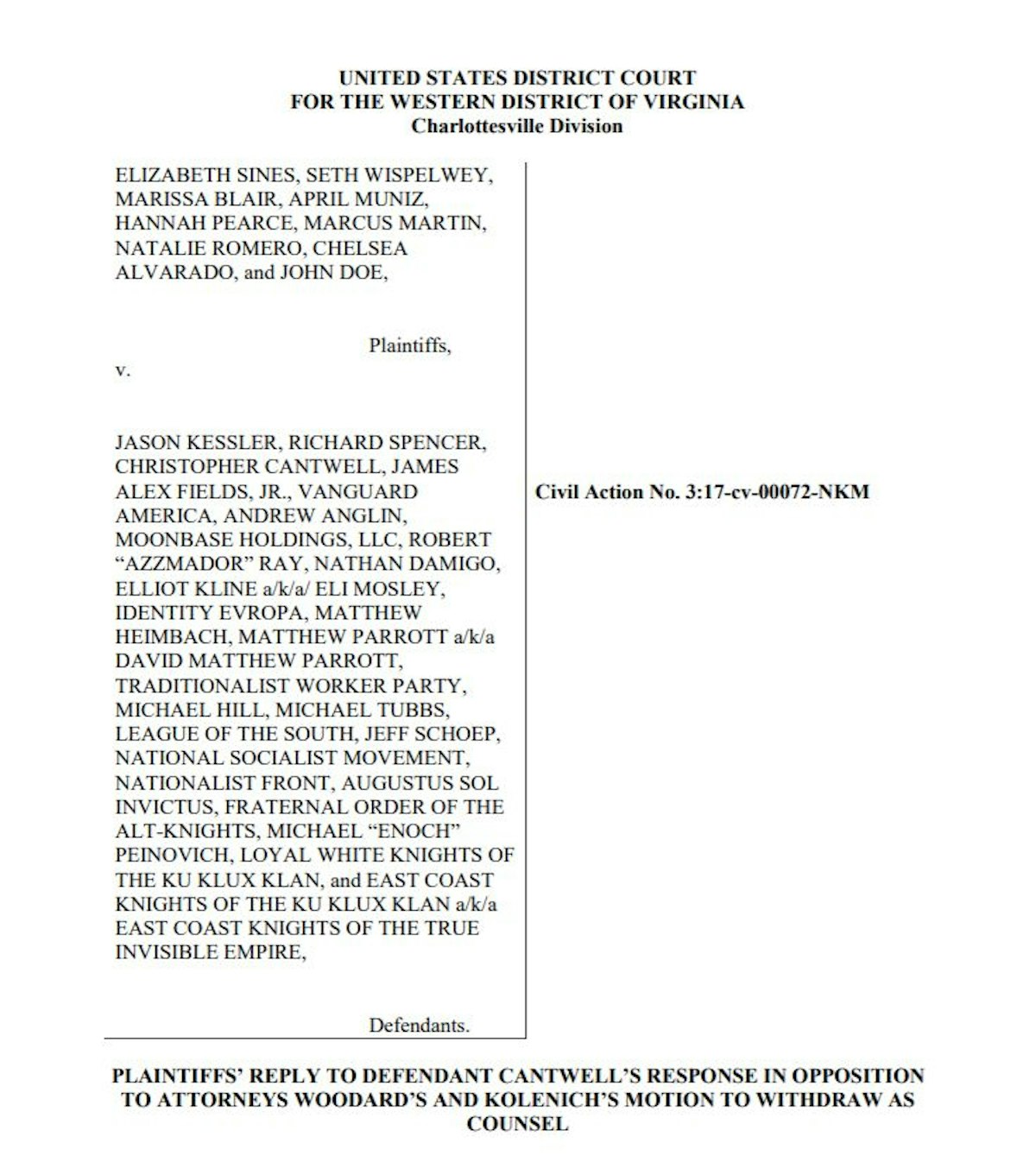 Latest Filing Follows Plaintiffs' Motion to Enjoin Cantwell for Threats Against Lead Counsel Roberta Kaplan, Cantwell's Own Attorneys' Withdrawal Due to His "Repugnant" Behavior
CHARLOTTESVILLE – Plaintiffs in Sines v. Kessler -- the landmark federal lawsuit backed by Integrity First for America against the neo-Nazis, white supremacists, and hate groups responsible for the Unite the Right violence – submitted a new filing, highlighting defendant Christopher Cantwell's continued promotion of violence.
Today's filing follows plaintiffs' motion to enjoin Cantwell after he threatened plaintiffs' lead counsel Roberta Kaplan this summer. That filing discussed Cantwell's own documented history of violence, as well as how threats like these are often used by extremists to inspire their loyal followers to action.
Following that motion, Cantwell's attorneys moved to withdraw as his counsel, citing Cantwell's "repugnant" conduct.
Just yesterday, Cantwell filed his response to plaintiffs' motion and his attorneys' motion to withdraw. That response and the "air of peaceful humility" it attempts to project mark a stark contrast with Cantwell's own continued violent, ant-Semitic, and homophobic attacks against Kaplan, as recently as a few days ago on his podcast.
"Equally troubling, when speaking to his many listeners – unlike when he addresses the Court – he takes a decidedly more violent tack. In yesterday's filing, Mr. Cantwell projects an air of peaceful humility, claiming this lawsuit is an effort 'to silence' him – 'a beaten man' – and his associates. To his impressionable and like-minded followers, however, he vividly spelled out what he believes is the natural consequence of this purported silencing: more shootings. (See Ex. 1 ('The Jews decided that the time for talk is over. And so, while I'm saying 'we gotta talk', and the Jews are saying 'no talking', the accelerationists win the argument, and people go out shooting.'); see also Cantwell Podcast at 1:06:50.) It has been nearly three months since Plaintiffs urgently sought relief from Mr. Cantwell's threats. Yesterday's tardy and two-faced response makes the need for such an order no less vital," today's filing concludes.
###
Integrity First for America (IFA) is a nonpartisan nonprofit organization dedicated to holding those accountable who threaten longstanding principles of our democracy—including our country's commitment to civil rights and equal justice. IFA is backing the landmark federal lawsuit against the two dozen neo-Nazis, white supremacists, and hate groups responsible for the August 2017 violence in Charlottesville. To learn more about the case, click here.