David Duke moves to quash subpoena in case against violent white supremacists in Charlottesville
By: Integrity First for America Press Releases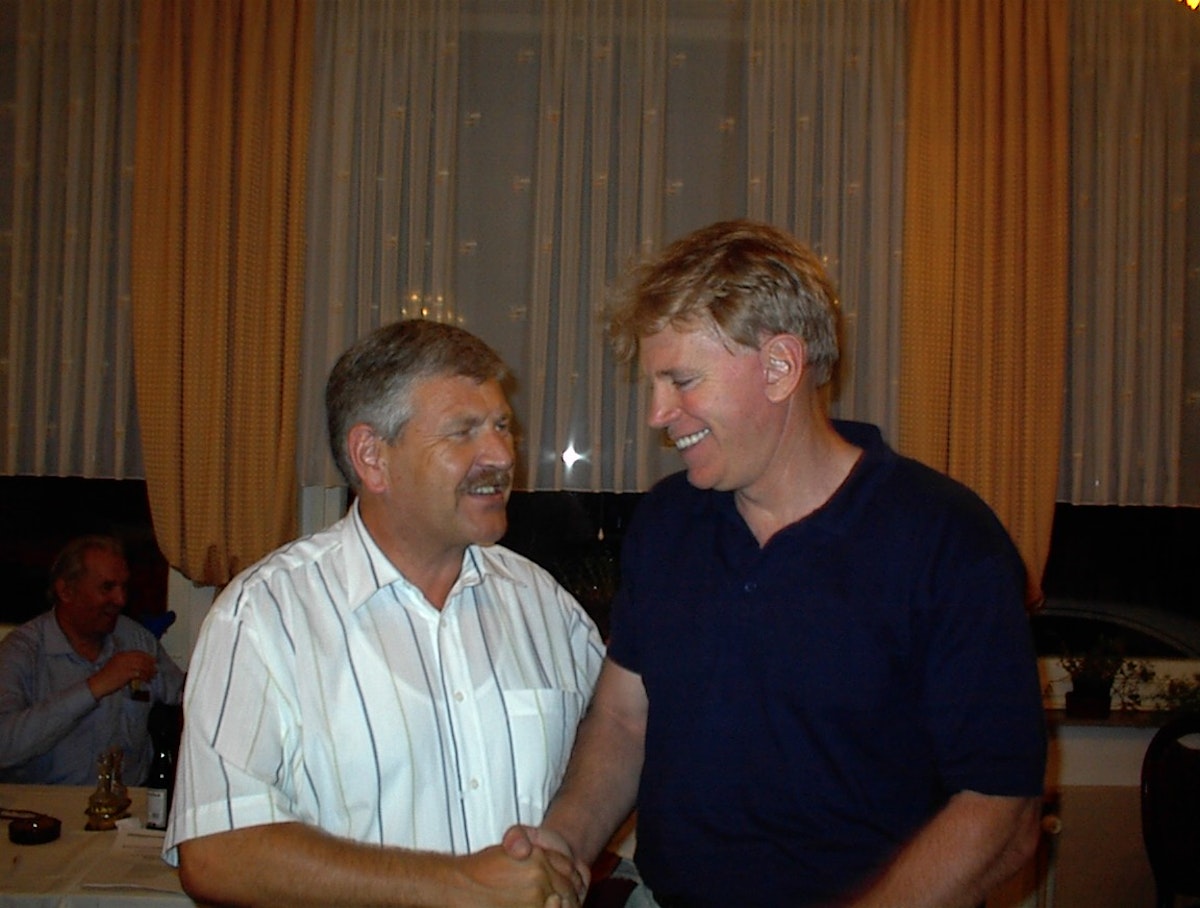 David Duke with Udo Voigt | 2002 | Wikimedia Commons | Emmanuel d'Aubignosc
Charlottesville, VA—David Duke filed a motion in federal court today to quash a subpoena served on him by Plaintiffs in the federal civil rights lawsuit against prominent neo-Nazis, white supremacists, and affiliated groups over the violence in Charlottesville last August.
Duke, former Grand Wizard of the Ku Klux Klan, claims that the Plaintiffs' request for documents concerning the violence in Charlottesville, "are overbroad, unduly burdensome . . . [and] production of the documents sought would be extremely difficult if not impossible and would subject Mr. Duke to undue burden and expense."
Plaintiffs subpoenaed Duke, a non-party, for documents and communications regarding the violence on August 11-12, financial support to organize the violent rally, and meetings between Duke and other white supremacists in the run-up to the events in Charlottesville.
The federal lawsuit was originally filed in October 2017 on behalf of ten Virginia residents injured during the violence in Charlottesville on August 11-12, 2017. Plaintiffs include a Christian minister, minority students at the University of Virginia, an African American landscaper, a Jewish dermatologist, as well as three individuals struck by James Field (who was criminally indicted for the murder of 32-year-old Heather Heyer). Defendants are prominent neo-Nazis, white supremacists, KKK members, and affiliated groups, including Jason Kessler, Richard Spencer, Christopher Cantwell, and James Fields. The case alleges that under the pretext of a "rally," the defendants "conspired to plan, promote, and carry out the violent events in Charlottesville" in violation of state and federal law, including the Ku Klux Klan Act of 1871 and the Civil Rights Act of 1866.
"The documents requested are essential to discovering the full extent of the conspiracy to plan and commit violence in Charlottesville," said Roberta Kaplan, the founding partner of Kaplan & Company LLP. "Mr. Duke attended meetings with members of the conspiracy, solicited donations on their behalf, and encouraged others to attend the so-called 'tiki-torch' rally on August 11 at which several of our clients were injured. Whatever burden he now claims does not outweigh my clients' right to relevant information in Mr. Duke's possession that relate to the defendants' conspiracy to commit racially-motivated violence."
The lawsuit is funded by the nonprofit Integrity First for America (IFA), dedicated to defending democratic norms and ensuring equal rights for every American.
"Integrity First for America is proud to support this historic case. The people of Charlottesville deserve justice. Those who planned, perpetrated, and executed the violence in Charlottesville must be held accountable," said IFA communications director Brett Edkins.
Plaintiffs are represented by Robbie Kaplan of Kaplan & Company, LLP, Karen Dunn and Philip Bowman of Boies Schiller Flexner LLP, and Alan Levine of Cooley LLP. The case was filed in Charlottesville, in U.S. District Court, Western District of Virginia.
David Duke's filing can be read here.