Federal Court Grants Sanctions – Including Adverse Inferences – Against Neo-Nazi Defendant Elliot Kline In IFA's Charlottesville Suit
By: Integrity First For America Press Releases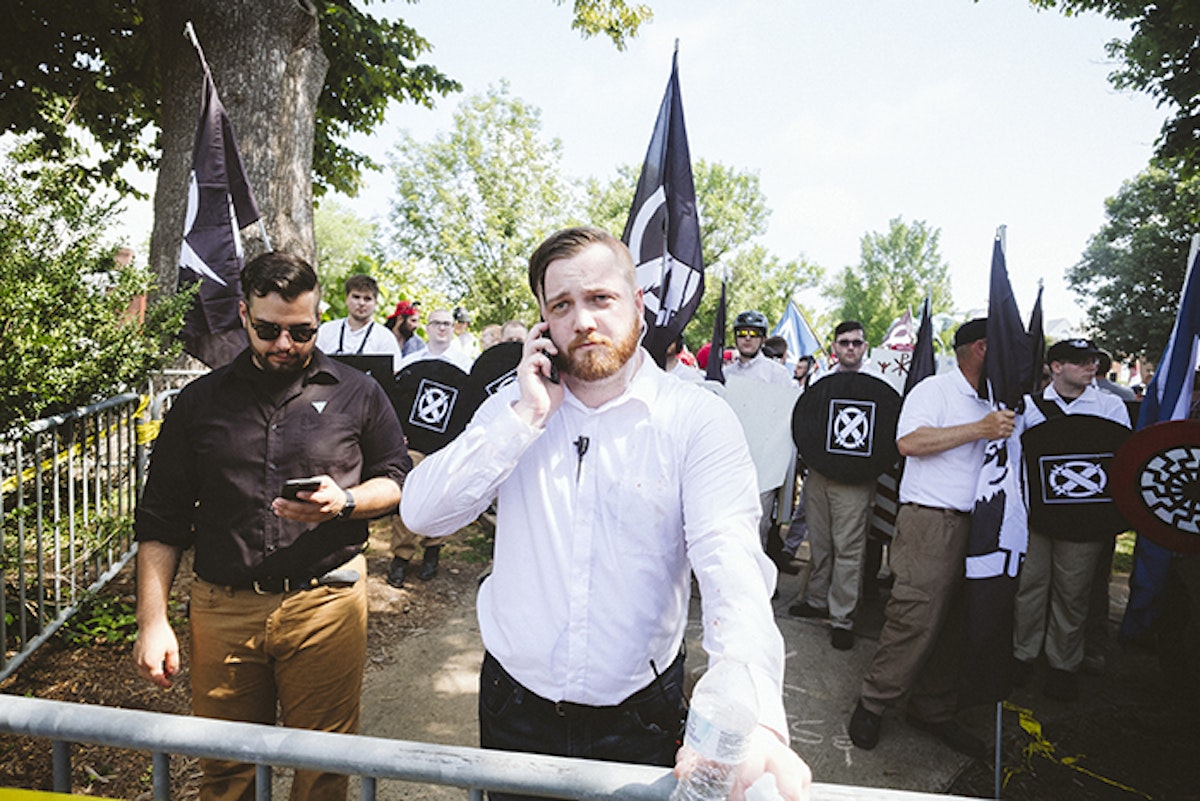 Photo by Eze Amos/Instagram via SPLC
Jury Will Be Instructed to Treat as Established Fact that Kline Entered into an Agreement with Co-Conspirators to Commit Racially-Motivated Violence in Charlottesville, Among Other Facts

Kline—a Primary Organizer of the Unite the Right Violence—was Previously Jailed, Sanctioned for Contempt and Other Violations of Court Orders
CHARLOTTESVILLE – A federal judge granted evidentiary sanctions—including adverse inferences—against neo-Nazi leader Elliot Kline (aka Eli Mosley) in Sines v. Kessler—the landmark federal lawsuit backed by Integrity First for America against the neo-Nazis, white supremacists, and hate groups responsible for the Unite the Right violence.
An adverse inference instruction is a type of evidentiary sanction for the spoliation or withholding of evidence. In today's decision, Magistrate Judge Joel C. Hoppe of the Western District of Virginia ordered a number of critical facts to be deemed established against Kline for the purposes of the action.
That includes the fact that Kline "entered into an agreement with one or more coconspirators to engage in racially-motivated violence in Charlottesville, Virginia" on August 11 and 12, 2017; that Kline "was motivated by animus against racial minorities, Jewish people, and their supporters when conspiring to engage in acts of intimidation and violence"; that "it was reasonably foreseeable to Defendant Kline and intended by him that coconspirators would commit acts of racially-motivated violence and intimidation"; and that Kline "ratified the racially-motivated violence" after Unite the Right.

Earlier this year, Kline was jailed and ordered to pay tens of thousands in monetary sanctions after the court found him in civil contempt and awarded additional penalties for repeatedly flouting discovery orders and lying under oath.
Plaintiffs had asked the court to instruct the jury that Kline chose to intentionally withhold his documents, and that the jury may infer that Kline chose to withhold such documents because he was aware that such documents contained evidence that Kline conspired to plan racially motivated violence at Unite the Right.

In his order today, Magistrate Judge Hoppe underscored Kline's continued defiance of court orders: "Kline did not follow through. In fact, Kline responded to two federal judges' patient indulgence with broken promises, halfhearted steps towards compliance, and countless sworn statements that were 'evasive, internally inconsistent, or simply not believable.'" He specifically noted that the court has not heard from Kline since he was released from custody in January.
Magistrate Judge Hoppe further wrote: "Kline's noncompliance with the discovery orders 'resulted in significant procedural and substantive prejudice' to Plaintiffs… Second, Kline's admission that he did not even try to preserve any relevant information— despite the fact his attorneys told him to do so—warrants an adverse-inference instruction under either Rule 37(e)(2) or the traditional 'spoliation' standard."
"There's no better evidence of the character of the defendants in this case than today's order, based on an extensive pattern of violation and contempt of court orders," said co-lead counsel Roberta Kaplan, Founding Partner at Kaplan Hecker Fink. "Magistrate Judge Hoppe went so far as to award the sanction of adverse inferences against Elliot Kline. Those inferences include the core allegations in our case and should have an enormous impact on our suit as we proceed to trial."
"Defendants in this case have consistently, systematically, and egregiously violated court orders – no one more so than defendant Kline," said co-lead counsel Karen Dunn, Partner at Paul Weiss. The court's award of adverse inferences today, along with other sanctions, is not just a demonstration of how serious the violations were, they also stand to have an enormous impact on the upcoming jury trial. One of the inferences is that a conspiracy existed to do racially motivated violence, which is at the heart of this case."
"Elliot Kline has refused to comply with his most basic discovery obligations since the inception of this lawsuit. Today's order holds him accountable," said counsels for the plaintiffs Jessica Phillips, Partner at Paul Weiss, and Michael Bloch, Counsel at Kaplan Hecker Fink.
"Today's order is a vital step toward accountability and justice – especially at a time when white supremacist violence poses such a dire threat to our communities and our security," said IFA Executive Director Amy Spitalnick. "Kline was a key organizer of the Unite the Right violence, and he's repeatedly tried to avoid accountability for the violent, racist conspiracy he orchestrated. Now, the court will instruct the jury to take as established fact our plaintiffs' core allegations against him."
Kline was a primary organizer of the Unite the Right violence in Charlottesville over August 11 and 12, 2017, and a former leader of the white supremacist hate group Identity Evropa (another defendant in Sines v. Kessler). Integrity First for America's lawsuit details how Kline and his fellow defendants meticulously planned the violence for months in advance, including via the social media platform Discord.
The plaintiffs are a coalition of Charlottesville community members injured in the violence. They have repeatedly sought to hold Kline accountable for his actions and discovery obligations.

Trial is scheduled for April 2021 in Charlottesville.
###
Integrity First for America (IFA) is a nonpartisan nonprofit organization dedicated to holding those accountable who threaten longstanding principles of our democracy—including our country's commitment to civil rights and equal justice. IFA is backing the landmark federal lawsuit against the two dozen neo-Nazis, white supremacists, and hate groups responsible for the August 2017 violence in Charlottesville. To learn more about the case, click here.