Fighting White Supremacy: From Charlottesville to Capitol Hill - Hudson Valley Virtual Event
By: Integrity First For America Blog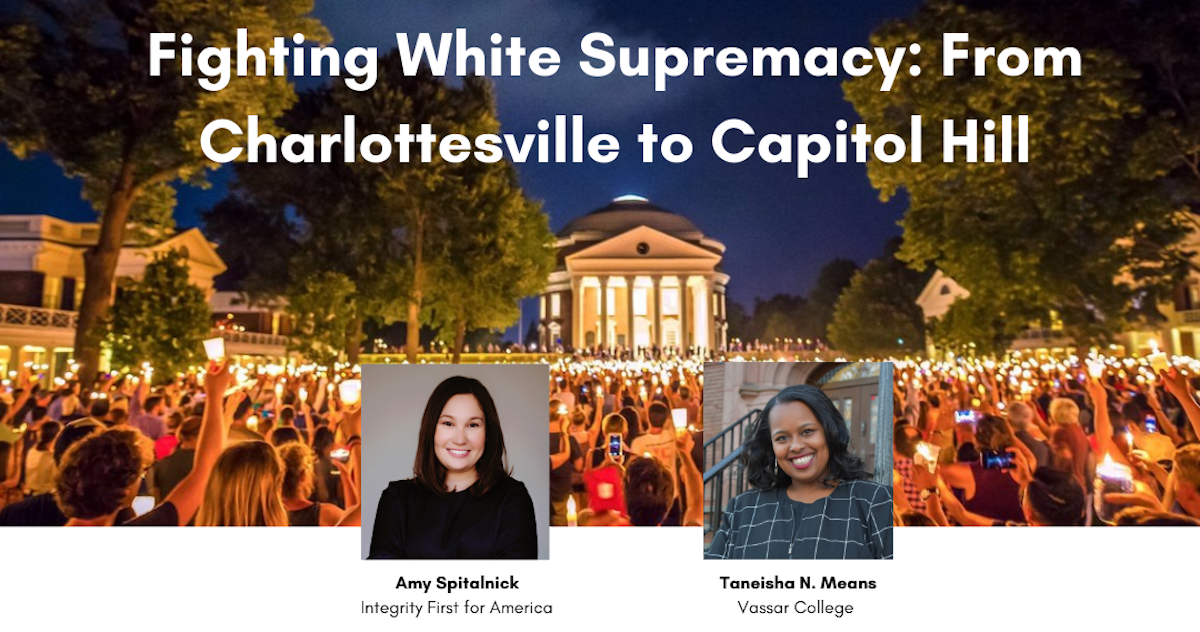 On Holocaust Remembrance Day, Integrity First for America's Amy Spitalnick and Professor Taneisha Means of Vassar College discussed our Charlottesville lawsuit and the fight against white supremacy and far-right extremism.
We are grateful to Professor Taneisha Means, Rabbi Brent Chaim Spodek, Justice McCray, Amatullah Muhammad, and Dar Williams for such a meaningful program.
From the Charlottesville attack to the Capitol insurrection to the shootings in Atlanta last month, our country is facing a horrific rise in far-right extremism and racist violence. But we have the tools to fight back.
Thank you to our co-sponsors: Beacon Hebrew Alliance --- The City of Beacon Human Relations Commission --- Beacon Prison Action --- First Presbyterian Church, Beacon --- The Resnick Institute at SUNY New Paltz --- St Andrew and St. Luke Episcopal Church, Beacon --- Vassar Temple, Poughkeepsie --- Beacon 4 Black Lives --- Jewish Federation of Dutchess County --- Melanin Unchained, Newburgh --- Next Step Hudson Valley, Newburgh --- Vassar Jewish Students Union --- Newburgh Jewish Community Center --- Orange County Human Rights Commission --- Dutchess County Human Rights Commission --- NAACP Newburgh/Highland Falls Branch --- Celebrate845