IFA Statement on New Charges Against Neo-Nazi Christopher Cantwell
By: Integrity First For America Press Releases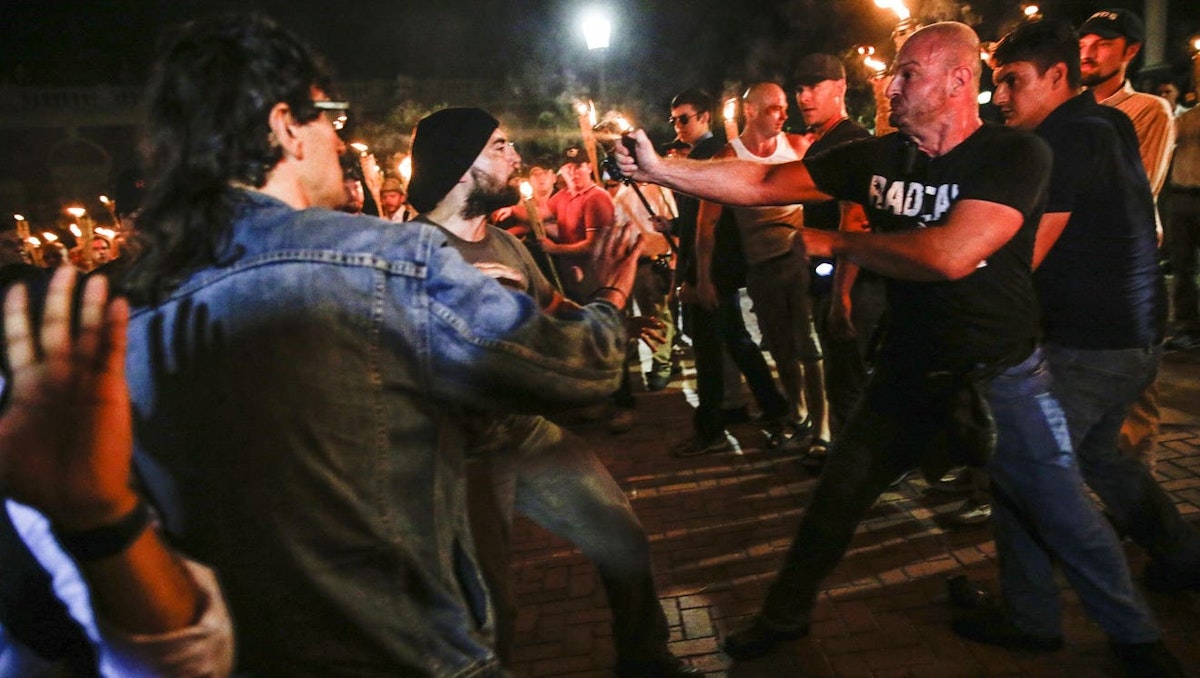 Mykal McEldowney/IndyStar
Following January Arrest, Grand Jury Charged Cantwell with New Charges, Including Cyberstalking and Threat to Injure Property or Reputation
Cantwell is Also a Defendant in IFA's Charlottesville Suit for His Role Orchestrating the August 2017 Violence
A federal grand jury just charged neo-Nazi Christopher Cantwell with new charges that include threat to injure property or reputation and cyberstalking, in addition to the existing extortionate interstate communications and threatening interstate communications charges from earlier this year.
Cantwell is also a defendant in Integrity First for America's Charlottesville lawsuit for his role orchestrating the August 2017 violence. Before the Charlottesville violence, Cantwell had urged his followers to join him in a race war and in "gas[sing] the k*kes."
"These charges detail just a small piece of Cantwell's violence and bigotry. It's high time he face the consequences for his violent actions — and our plaintiffs will continue to hold him accountable in our Charlottesville suit. From orchestrating the Charlottesville violence in hopes of a 'race war,' to vile threats against our lead counsel, journalists, and many others, this country is a safer place with Cantwell in custody," said IFA Executive Director Amy Spitalnick.
After conspiring with his fellow defendants in person and online via the social media platform Discord in order to direct unlawful acts of violence, intimidation, and denial of equal protection, Cantwell marched on Charlottesville screaming things like, "Jews will not replace us!" as he terrorized students and employees on the University of Virginia campus on August 11, 2017. He followed through on his threat and assaulted counter-protestors and passersby with illegal gas. The following day, as he continued to terrorize the residents of Charlottesville, he said to his co-conspirators, "We'll f*cking kill these people if we have to." He was subsequently arrested for multiple felonies, including for maliciously causing bodily injury to a counter-protestor by dispensing a caustic substance.
IFA's suit, brought on behalf of a coalition of Charlottesville community members injured, alleges that Cantwell and his co-defendants orchestrated a racially-motivated violent conspiracy. The suit details how Cantwell and the nearly two dozen other defendants planned the violence for months in advance. Trial is scheduled for October 2020.
Cantwell's violent threats have only escalated since the events in Charlottesville. He has likened himself to the perpetrators of mass shootings and advocated for the mass murder of those with opposing political views.
In July, just two days after the threat that led to this superseding indictment, Cantwell used the same social media platform (Telegram) to threaten Roberta Kaplan, lead counsel for the plaintiffs in IFA's suit. In response to an article in a Jewish publication about the case and Kaplan, Cantwell wrote. "After this stupid k*ke whore loses this fraudulent lawsuit, we're going to have a lot of f*cking fun with her."
###
Integrity First for America (IFA) is a nonpartisan nonprofit organization dedicated to holding those accountable who threaten longstanding principles of our democracy—including our country's commitment to civil rights and equal justice. IFA is backing the landmark federal lawsuit against the two dozen neo-Nazis, white supremacists, and hate groups responsible for the August 2017 violence in Charlottesville. Trial is scheduled for October 2020. To learn more about the case, click here.