Jewish Journal: How the Deadly Charlottesville Rally, the Reported Gov. Whitmer Kidnapping Plot and More Underscore the Continued Threat of Far-Right Extremists
By: Integrity First For America News Coverage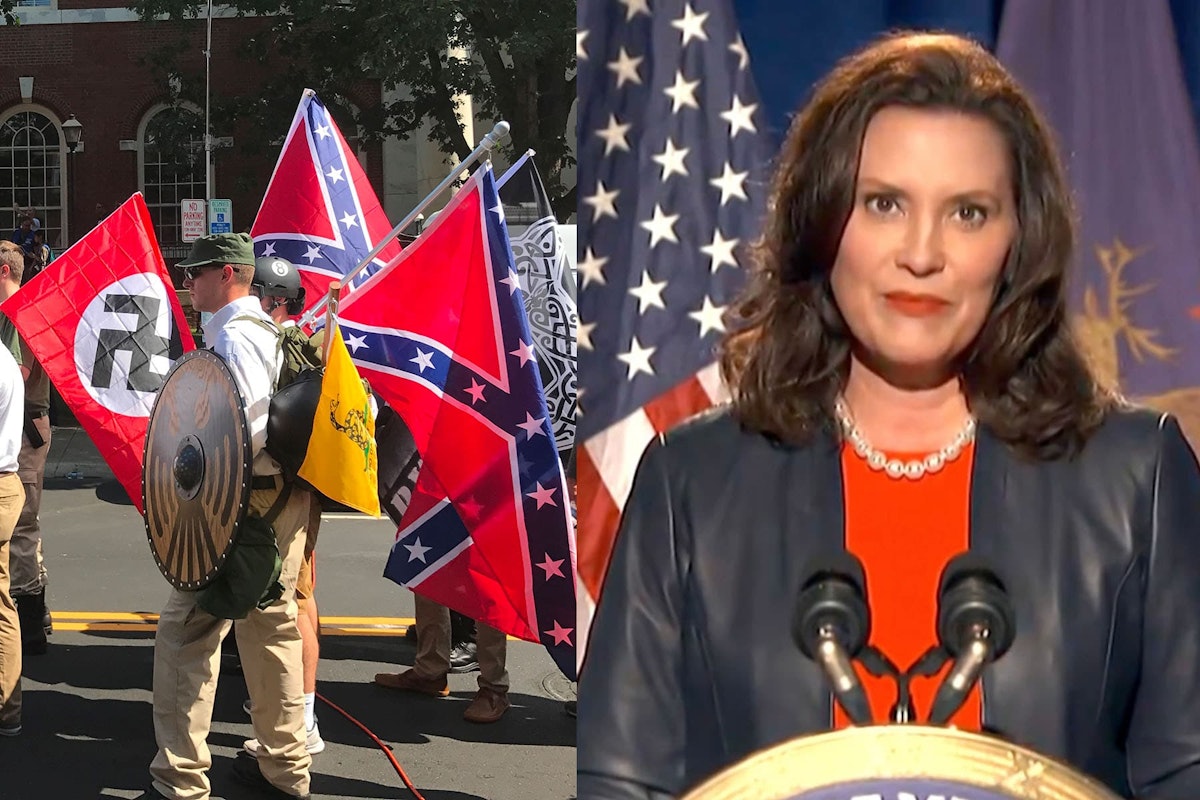 Photos from Anthony Crider/Wikipedia and Getty Images
By Kelly Hartog, Jewish Journal. Read the full story here.
Hours before the Jewish Museum of Milwaukee hosted a virtual panel on Oct. 8 on the upcoming landmark federal Sines v. Kessler case against the neo-Nazis, white supremacists and hate groups connected with the August 2017 violence in Charlottesville, Va., federal authorities announced they had thwarted a white supremacist plot to kidnap Michigan Gov. Gretchen Whitmer.
The panelists — Amy Spitalnick, executive director of the civil rights nonprofit Integrity First for American (IFA), which is backing the lawsuit; Michael Bloch, attorney at Kaplan Hecker & Fink, which is trying the case and partnering with IFA on litigation; Reggie Jackson, co-founder and lead trainer at Nurturing Diversity Partners; and moderator Hannah Rosenthal, a former special envoy on monitoring and combating anti-Semitism at the U.S. State Department — noted that the incident merely underscores the need to recognize that what happened in Charlottesville was not an isolated incident.
"IFA's role," Spitalnick said, "is to make sure we understand how Charlottesville fits into the broader cycle of extremist violence that we're seeing. It's so important to understand that Charlottesville was not an isolated incident, but a flashpoint and a harbinger in the lives of white supremacist terror in recent years."
Spitalnick then went on to speak about what she called "the deep, disturbing connections from the Charlottesville defendants in the case. We know that the [October 2018] Pittsburgh shooter communicated with some of the Charlottesville leaders before his attack; the [March 2019] Christchurch, New Zealand, shooter painted on his gun a white power symbol that was first popularized by one of our defendants. Christchurch inspired the [April 2019] Poway attack and the [August 2019] El Paso attack," she said.
Taking on the case, Spitalnick said is a way to "effectively bankrupt and dismantle [these groups] in ways that no other legal effort has done."
The panelists also cited other recent incidents including (but not limited to), President Donald Trump during the first presidential debate on Sept. 29 calling on the Proud Boys to "stand by" and Vice President Mike Pence and Democratic vice presidential nominee Sen. Kamala Harris (D-Calif.) bringing up the Charlottesville violence three times during their debate, as why now is the time to be having this discussion about white supremacy and far-right extremist hate groups.
Jackson said, "It's amazing to me that people continue to delude themselves that [these groups] are fringe elements in our society. They are not fringe elements. They are actively recruiting young people on a consistent basis. We'd better wake up as a society and realize [we need to do] something specific — not just this lawsuit — but force our elected officials to do something about the rise in these hate groups and the violence they've been perpetrating."
"WE'D BETTER WAKE UP AS A SOCIETY AND REALIZE [WE NEED TO DO] SOMETHING SPECIFIC — NOT JUST THIS LAWSUIT — BUT FORCE OUR ELECTED OFFICIALS TO DO SOMETHING ABOUT THE RISE IN THESE HATE GROUPS AND THE VIOLENCE THEY'VE BEEN PERPETRATING." — REGGIE JACKSON
Discussing the upcoming case, which originally was slated for trial on Oct. 26 but has been pushed back to April 2021 because of the COVID-19 pandemic, Bloch said, "The timing couldn't be more important to have this discussion," adding, "the most prominent attack that most people know about is the car attack when James Fields drove a Dodge Challenger through a crowd of peaceful protesters killing Heather Heyer and injuring scores of others."
What the upcoming lawsuit uncovered, Bloch said, is that the entire weekend was "really a weekend of terror" that started on Friday night, Aug. 11, when white supremacists and Nazis marched through the University of Virginia (UVA) campus chanting, "Blood and soil" and "Jews will not replace us."
Arriving at the statue of Thomas Jefferson, who founded the university, Bloch said, "There were about 20 peaceful counter-protesters — UVA students against white supremacy — who were then surrounded by 500 white supremacists who started attacking them; throwing their tiki torches at them; throwing lighter fluid; kicking and punching them."
The following day, the same group marched through Charlottesville, reportedly committing similar attacks. That's when Fields drove into the crowd, killing 32-year-old Heyer. (Fields, who was 20 when he committed the crime, was convicted of first-degree murder and eight counts of malicious wounding, and is serving a life sentence in the death of Heyer). Ten of those injured over that weekend are now Kaplan Hecker & Fink plaintiffs in the upcoming litigation.
Bloch said the key to the case — and why it is so important in today's climate — is that what happened in Charlottesville was not some random march that somehow spun out of control, but that it was a meticulously planned and executed attack.
"It was revealed shortly after [the Aug. 12 weekend] that all of this was planned on a social media platform called Discord," Bloch said, "which has invite-only servers. The organizers and defendants in our suit created their own server called Charlottesville 2.0 and they planned the rally in meticulous detail from about June [2017] onward."
Those chats were leaked online and Bloch said they discussed every detail, "from uniforms they would wear, the formations they would march in, fighting tactics, about whether it was legal to run over protesters in Virginia. They researched self- defense laws in Virginia. They had medics on hand for the aftermath."
The suit is being filed under a federal statute called the Ku Klux Klan Act of 1871, Bloch said, "passed by the Reconstructionist Congress to really give teeth to the 13th, 14th and 15th amendments — that abolished slavery, gave equal protections [to] and gave African Americans the right to vote. The statute gives the ability [to victims] to sue in federal court for conspiracy to commit racially motivated violence."
It's also why, Spitalnick said, IFA was created in 2017 because of "a vacuum in civil rights protection. We've seen in recent years how the Department of Justice (DOJ) civil rights investigations and prosecutions is down nearly two thirds from the end of the [Barack] Obama administration."
So who exactly is IFA taking on? Among the nearly two dozen defendants are Richard Spencer, who Spitalnick noted is "the most famous neo-Nazi." Also listed in the suit is Chris Cantwell, who on Sept. 28 was found guilty in a separate case of extortion in a rape threat case. Also listed as a defendant is Andrew Anglin, who last week posted on his website, the Daily Stormer, which Spitalnick said is "the most trafficked hate site in the world," that Trump's comments about the Proud Boys during the presidential debate were calls for a race war during the election. Other defendants are groups including the National Socialist Movement, Vanguard America and certain KKK-affiliated groups.
Bloch said the defendants are alleging they were exercising their First Amendment rights and filed a motion to dismiss the case on that basis but the motion was denied. "We have been very careful to make sure that we are asserting claims based exclusively on conduct primarily and speech that is not protected. Our focus is the violence and the plans to commit violence."
Jackson spoke about how ongoing right-wing extremist violence "is as American as apple pie," stating how the first iteration of the Ku Klux Klan was formed as America's first organized terrorist group right after the Civil War ended and has never disappeared.
The issue, he said, "is not in the groups themselves but in the people who support them." He added that when it came to Charlottesville, "this didn't come out of the blue. They have been planning a race war — to disrupt democracy and create a nation that is only for the people they want. These things were happening 100 years ago."
He also noted that in the KKK's heyday in the 1920s, the government enacted immigration quotas on Southern and Eastern European countries, which affected Russian Jews attempting to escape pogroms and that those quotas were maintained through the 1960s.
"The Jewish community has had an exceptionally long history of fighting against these types of elements," Jackson said. "There has never been a time in this country when the Jewish community hasn't had to deal with these types of folks." He also noted that Black people had been talking about these groups for "a long time but no one is listening. We are under siege."
It's why, he added, that the group that is suspected of attempting to kidnap Whitmer and the August shootings in Kenosha, Wis., "are all part and parcel of the current state of affairs in America …. We have seen a rise in hate groups since the election of [President] Barack Obama in 2008. They've taken advantage of social media to spread like wildfire and, tragically, we have a president that refused in 2017 to say that these were horrible people. Even during the [Sept. 29 presidential] debate, he refused to call out white supremacists."
Spitalnick and Bloch spoke with the Journal in a joint phone call after the panel, when Spitalnick echoed Jackson's words. "Without fail, we are living at a time where the urgency of this is so clear," she said, citing an Oct. 6 Department of Homeland Security report that stated white supremacy is "the most persistent and lethal threat" in the U.S. The report comes on the heels of FBI Director Christopher Wray's testimony to Congress last month that white supremacists make up the majority of domestic terror threats.
Bloch also noted that despite Trump's declaration and a GOP narrative that antifa is the same as white supremacists, that is in fact a "false equivalency. You fairly regularly now — starting from Charlottesville — see violent plans and actions including terrorist-type actions by white supremacists that keeps cropping up in the news," he said.
Citing a report issued in August compiled by the Washington, D.C.-based Center for Strategic and International Studies, a centrist think tank, Spitalnick added that there have been close to zero deaths linked to antifa and other anti-fascist activists compared with the "hundreds and hundreds linked to white supremacists and other far-right extremists over the last 25 years."
She added that the suspected attempted kidnapping of Whitmer "should just underscore to everyone in this country this is a dire threat; that these extremists are not going away without sustained, strategic action from our government; from private plaintiffs like ours; from social media companies and others."
She also noted that in the immediate aftermath of the arrests, many of those same extremist groups were circulating the charging document and commenting on social media. "It's sadly in line with the sort of violent extremism we see from our defendants and their supporters in our case and across the board," she said, "and informs the importance in keeping every one safe. This is not just s— posting. These are people who take their violence online and turn it into real-world action. We've seen it in Charlottesville and now in Michigan and in between."
It's also why, Spitalnick noted that security for the IFA team and the plaintiffs in the Charlottesville case is the biggest line item in IFA's budget.
Regarding media reports calling the suspects in the attempted kidnapping of Whitmer a militia as opposed to domestic terrorists, Spitalnick said that Mary McCord, senior litigator at the Washington, D.C.-based Institute for Constitutional Advocacy and Protection (ICAP) and visiting professor at Georgetown Law school, is the "best legal expert in the country on the unconstitutionality of private militias, and there has been a total misrepresentation of what these [militias] are: unconstitutional armed gangs, and domestic terrorists in the case of Michigan."
Bloch added that theoretically the word "terrorism" should not be a political term. "There is a legal definition for it," he said. " 'The use of violence or intimidation for the purpose of intimidating a population.' That's something that theoretically could and should be applied objectively. When you drive a car through a crowd of peaceful counter-protesters that is part of the purpose of hurting or intimidating a population of racial minorities or their supporters, which is what James Fields did, that's terrorism. The same thing can be said of trying kidnap a governor for political purposes."
He added, "Right after Charlottesville, you saw people who immediately came out and said that's terrorism. That's what we said when a Muslim man drove a car through New York City (on Oct. 31, 2017, killing eight and injuring 11). There was no question among our political leaders that we were going to call that terrorism and treat it that way. But [the term] is used subjectively by this administration to shield white supremacists from the use of that label. That itself helps encourage, support and embolden white supremacists to keep doing what they're doing."
Bloch also said when it comes to DOJ priorities, at the same time the Whitmer attempted kidnapping story broke, the DOJ sued Yale University for discrimination against white people and Asian Americans. "When you have law enforcement saying white supremacy is the most lethal threat in America today, and [the Yale case] is where the DOJ is putting its resources, it tells you everything you need to know about what this government is focused on," he said.
Spitalnick added that after Trump made his "stand down and stand by" comments at the Sept. 29 presidential debate, Anglin posted on the Daily Caller how the president's comments " 'were a call for a race war and people should be prepared to violently fight for him.' There are actively neo-Nazis, Proud Boys and others who have heard the president's comments and more broadly are eager and ready — often fueled by his voter fraud disinformation — to defend his power."
"THERE ARE ACTIVELY NEO-NAZIS, PROUD BOYS AND OTHERS WHO HAVE HEARD THE PRESIDENT'S COMMENTS AND MORE BROADLY ARE EAGER AND READY — OFTEN FUELED BY HIS VOTER FRAUD DISINFORMATION — TO DEFEND HIS POWER." — AMY SPITALNICK
It is important, she added, "to understand and not lose sight of or turn a blind eye to [these groups]. They do this to threaten us, as a means to scare people from exercising their rights — whether it be voting or supporting candidates, canvassing or phone banking. You can't let them dissuade or scare you from exercising your rights. Our defendants are trying to get us to back down from this case. We won't."
Today, she added, the threat from these right-wing extremists is greater than ever. "What we've seen is how using more modern technologies has translated that ideology and hate into its modern form. In the past, they'd meet in white hoods in the woods somewhere and plan their violence, and they'd be relegated to specific geographic areas. Now you have extremists who can connect across the country and across state lines as we've seen in Charlottesville and the Michigan case. That provides a level of horrific expansiveness that makes the impact infinitely greater and terrifying."
Every single expert, Spitalnick said, "is ringing the alarm bell that this is the grievous, most dire threat to our country right now. Even as the White House and the DOJ attempt to deflect and point fingers elsewhere, the experts are making clear the urgency of this threat. Don't let it fall off the radar screen."