Jewish Journal: The Jewish Women Taking on the Charlottesville Instigators
By: Integrity First For America News Coverage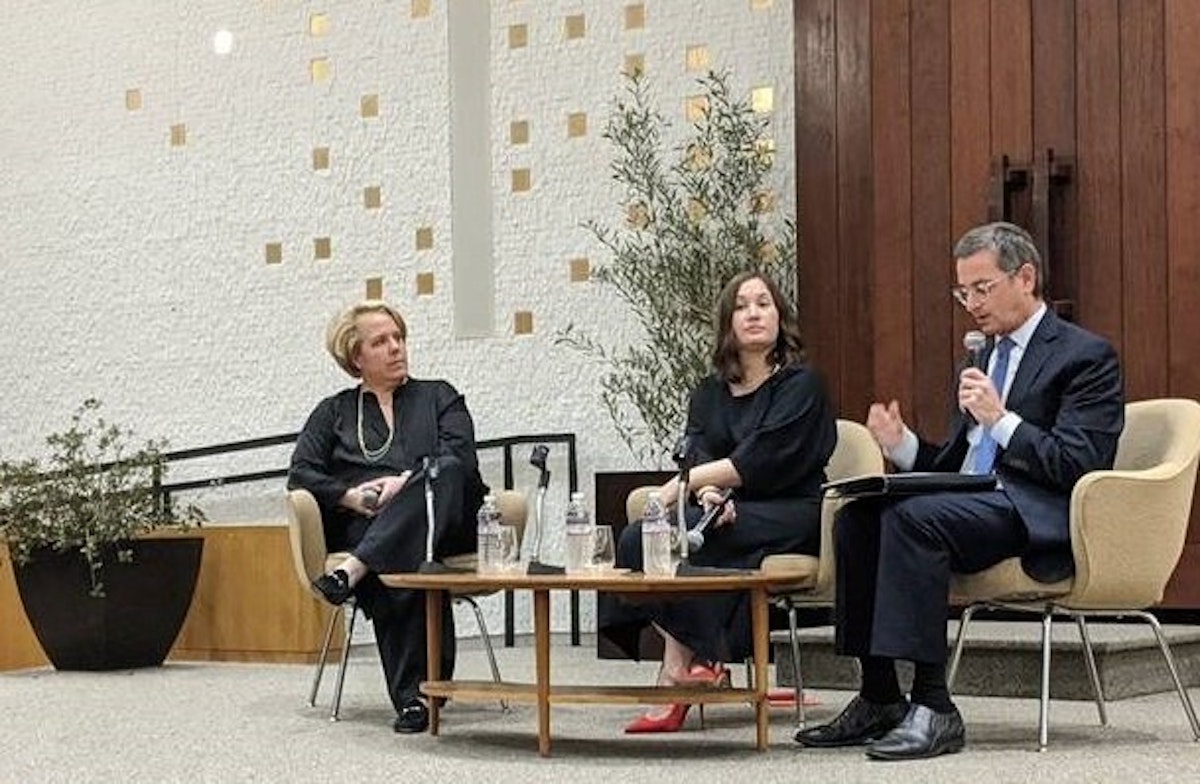 Jewish Journal reported on an event featuring Sines v. Kessler co-lead counsel, Roberta Kaplan, and IFA Executive Director Amy Spitalnick. Read the full story here.
- - - - -
Looking at the news over the last few years, the "landscape of hate" appears to be disturbingly broad, stretching from Parkland to Pittsburgh, from Poway to El Paso. And those are just a few of the cities that have experienced headline-grabbing acts of violence.
But a pair of Jewish women — one a New York attorney, the other a leader of a justice-seeking nonprofit — are working to alter that landscape, one groundbreaking court case at a time. If the discussion in front of a packed crowd at Leo Baeck Temple on Jan. 23 is any indication, Amy Spitalnick and Roberta Kaplan have plenty of people who agree that hate-fueled violence has to stop.
Spitalnick, the executive director of Integrity First for America (IFA), and Kaplan, the lead co-counsel in the case of Sines v. Kessler, joined Leo Baeck Senior Rabbi Ken Chasen for a discussion of the upcoming federal court case that will seek to dismantle hate groups by attacking their sources.
Prompted by the riots that broke out following the "Unite the Right" demonstration in Charlottesville, Va., in August 2017, Sines v. Kessler seeks justice for a coalition of 11 Charlottesville citizens who were injured during the attack. The defendants are members of white nationalist and other hate groups whose leaders, the suit alleges, spent months planning the violence that erupted.
More broadly, Kaplan and her team hope that a precedent-setting verdict against the Charlottesville instigators will dissuade like-minded hate groups from planning similar actions. The case is set to go to trial in Virginia in late October, and whatever the outcome, Kaplan expects the case to be appealed, potentially all the way to the Supreme Court.
"It would be foolhardy to think we can eradicate these deep hatreds that exist throughout human history," said Kaplan, who in 2013 argued before the Supreme Court in a case that helped strike down a key provision of the Defense of Marriage Act. "What we can do as a result of this case and other efforts is create a sense of shame about hate. It shouldn't be OK to do and say and act the way they acted.
"Every few decades or so in this country, there is a trial that ends up being more important than just the dispute between the parties," she continued. "This trial, I guarantee you, is going to be that kind of a trial."
The event at Leo Baeck was supported by more than 15 community organizations including institutes of faith and cultural institutions from across the political spectrum. Sponsors included the Anti-Defamation League and Jews United for Democracy and Justice, which has been putting on a series of community conversations across the city.
"This diversity of this unity is a clear demonstration of our ability to join with one another when our American norms are dangerously threatened, particularly when there's a direct opportunity for all of us to protect those norms," Chasen said.
Kaplan recounted how, shortly after starting her own practice and moving into offices in the Empire State Building, she and her handful of employees watched the media coverage of the Charlottesville incidents, which included a Friday night rally with demonstrators branding tiki torches and chanting anti-Semitic slurs. The following day, James Fields Jr. drove his car into a group of protestors, killing 32-year-old Heather Heyer and injuring 19 others.
Kaplan and her staff watched the press coverage and listened to President Donald Trump's response of "very fine people on both sides," and found themselves simultaneously horrified and galvanized to take action.
"As someone who is a fighter — and I'm a litigator — it occurred to me that something needed to be done about it," Kaplan said. "The second thought that went [through] my mind was that I was going to do it because I was very concerned that the civil rights division of the Department of Justice, which was created to do cases like this, probably wouldn't do it."
The roots of Kaplan's interest in this kind of prosecution date back even further. As a young girl, she admired World War II resistance fighter Hannah Szenes and, as a bat mitzvah, her Torah portion included the phrase tzedek, tzedek tirdof, "Justice, justice, shall you pursue."
"If not now, when? Our duty as Jews was to do something about it," Kaplan said. "I was very concerned if we didn't do it, no one else would, and that's really what motivated my desire and my will and my dog-with-a-bone nature to fight this fight."
Kaplan consulted Slate's Supreme Court reporter, Dahlia Lithwick, a Charlottesville resident, who helped put her in touch with people in the community. She found a kindred spirit in Spitalnick, the granddaughter of Holocaust survivors.
"I brought my grandmother to school to talk about the Holocaust, not as a cautionary tale but as a piece of history," Spitalnick said. "The fact that so many years later, we're now finding neo-Nazis who march with swastikas and Nazi slogans, carrying tiki torches meant to evoke Nazis and the KKK, that this was happening in our country, on our streets and in our synagogues, is just baffling to me. So when I got a call from Robbie (Kaplan) asking, 'Do you want to help me sue some Nazis?' I don't know what else I could have done but say yes."
According to Spitalnick, IFA is "all in" on Sines v. Kessler, meaning every dollar the organization raises goes toward collecting evidence and helping fund security measures. When able to obtain it, Kaplan's team has been combing through reams of evidence located on computers, cellphones and social media accounts from people resistant to turning it over. As a result of the litigation, the Sines plaintiffs and Kaplan have received multiple threats.
"We're at a moment where it's so easy to feel horrified and depressed and frustrated that there isn't something you can do in the face of these continuing racist, anti-Semitic xenophobic attacks," Spitalnick said. "This case is a very real, tangible opportunity to go after those who are at the center of this violent movement, bankrupt them, dismantle them and send a very strong national message that if you are part of these violent conspiracies, you will face severe consequences for your actions."
"I know none of you people need to be woken up to this," Kaplan said, "but the Jewish community kind of needs to hear the shofar blast of what is going on."