New York Times: Charlottesville Lawsuit Puts Rising Intolerance on Trial
By: Integrity First For America News Coverage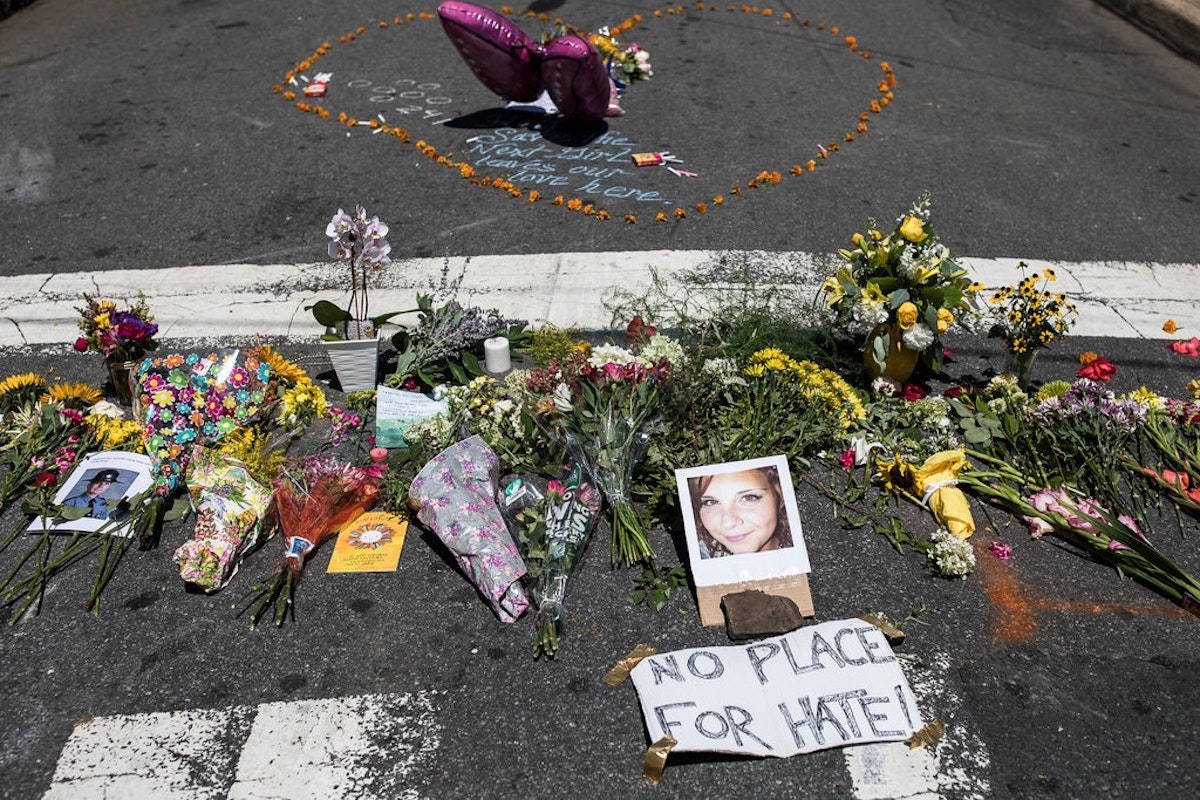 Edu Bayer for The New York Times
The New York Times published a feature story on IFA's Charlottesville suit. Read on to learn more about our suit:
The most sweeping lawsuit against the promoters of the Charlottesville white power rally has been churning toward trial for two years, ever since hundreds of white supremacists and Nazis staged a torch-lit march that sparked a weekend of violence.
In that time, lawyers have been methodically pursuing a case that could demonstrate how to use the courts to combat extremism in an age when the internet has provided a global megaphone for ideas once limited to an isolated fringe.
The outcome is not a foregone conclusion. A closer look at the legal strategy in the lawsuit, known as Sines v. Kessler, illustrates the hurdles involved in putting hate and intolerance in the dock, with members of the far right habitually citing the First Amendment as their shield.
To pursue participants in the Charlottesville rally, lawyers are relying on 21st century technology as well as a seldom-invoked law from the Civil War era.
Lawyers say their case, which has been updated in recent weeks, rests on conversations among participants and describes planning that preceded the August 2017 rally. The details were extracted from hundreds of leaked screen shots of multiple chat threads on topics ranging from the banal to the brutish.
Clothes, for example, were a particular fixation. Organizers were encouraged to wear attire that might make more "regular" Americans feel comfortable joining their ranks. "Wear what you look best in," wrote one participant. "Super casual clothes are discouraged tho. No crocs and sweatpants nationalism."
More central to the case were the chat participants' lengthy deliberations on which weapons to carry — guns, knives, ax handles, pipes — as well as the legal ramifications of using them. The conversations on Discord, a platform for online game enthusiasts, were published by Unicorn Riot, an alternative media website.
On July 24, 2017, a participant identified only as Tyrone suggested that flag poles be limited to a three-foot ax handle. "Anything longer is too long to effectively bludgeon someone with," he wrote. In a different exchange, Tyrone also asked whether it is "legal to run over protesters blocking roadways?"
On the day of the rally, James A. Fields Jr., a white supremacist, rammed his car into counter protesters, killing a woman. Mr. Fields, a defendant in this lawsuit, was convicted of murder and sentenced last June to life in federal prison.
Lawyers for the plaintiffs maintain that the conversations — peppered with derogatory remarks against African-Americans, Jews and others — constitute a conspiracy to commit violence against a racial minority, which is illegal under federal law.
Participants planned the violence beforehand, and "there is no First Amendment protection for violence," said Karen L. Dunn, a lead attorney.
In court papers, lawyers for many of the 24 men or organizations who are defendants in the case deny any conspiracy, arguing that the First Amendment right to self-expression covers the online conversations.
"The First Amendment is about protecting horrible opinions, not protecting reasonable ones," said W. Edward ReBrook IV, one defense lawyer. Saying disparaging things about people does not amount to an organized plan to harm them, he said, and participants had a legitimate need to discuss self-defense.
Proving a conspiracy is the crux of the lawsuit, which is rooted in a rarely invoked component of an 1871 federal law commonly called the Ku Klux Klan Act.
The act was part of an effort to give legal teeth to the 13th, 14th and 15th Amendments, which ended slavery and extended equal rights to African-Americans, said Eric Foner, a Columbia University historian who has written extensively about the Reconstruction Era. The act criminalized efforts by the Klan to re-enslave African-Americans.
Most rights embedded in the United States Constitution are designed to protect citizens from the government, and say very little about how private people treat one another, said William P. Baude, an expert on constitutional law at the University of Chicago.
The K.K.K. Act provided a narrow exception, extending civil rights protection into the private sphere. Two caveats limit its scope: the violence in question must be both racially motivated and plotted in advance.
"This is exactly what this statute is intended to address, whether they are modern day K.K.K.-ers or neo-Nazis," said Richard C. Schragger, a law professor at the University of Virginia in Charlottesville. "This kind of racially motivated violence has been around for a long time, and it continues to be around."
However, the ink was barely dry on the law before the Supreme Court backpedaled on applying it. So constitutional experts call the history of rulings under the act uneven.
It was not until the modern civil rights movement that the court reinvigorated the K.K.K. Act and related laws. In a 1971 case, Griffin v. Breckenridge, the court ruled that two white men in Mississippi had conspired to deprive a group of black men of their civil rights by beating and intimidating them with weapons.
In the Charlottesville case, Judge Norman K. Moon of Federal District Court cited the Griffin case and the Ku Klux Klan Act in rejecting the defendants' attempt to have the lawsuit dismissed on First Amendment grounds.
Even so, Mr. Baude of the University of Chicago noted, the K.K.K. Act cannot be applied universally to whatever white supremacists do. "Not every hateful thing is a denial of someone else's rights," he said.
So he and other experts stress that a jury trial, expected in the summer of 2020, will be crucial in establishing the facts of what happened.
The lawsuit was first filed in October 2017 and the cost is being underwritten by Integrity First for America, a nonprofit group founded to oppose the erosion of democratic principles.
The 10 plaintiffs are a cross section of Virginia residents — an ordained minister, a landscaper, a dermatologist, several students. In addition to claiming that a conspiracy deprived them of their civil rights, they are seeking damages for injuries, lost income and severe emotional distress.
Elizabeth Sines, the lead plaintiff, who was a law student in 2017, witnessed both the march, with its racist chants, and the car plowing into the crowd of counterprotesters the next day.
"The trauma will never go away," she wrote in an email. "Among other things, I will always be on high alert when I'm in a large crowd and I'll always have nightmares — of the car attack, of torchlight rallies I'll be scared forever. But the events from that weekend have reaffirmed for me how important it is to show up."
The 14 individuals and 10 organizations who are the defendants include white nationalists, neo-Nazis and a couple of subdivisions of the Ku Klux Klan. Broadly, they maintain that the case is a kind of harassment-by-law, intended to bankrupt their leaders and to unmask their secret membership lists.
Six defendants have ignored the case entirely, and the overall response to the plaintiffs' requests for discovery materials has proved prolonged and irregular. There have been repeated efforts by lawyers to stop representing defendants who don't communicate, don't pay their bills or threaten the plaintiffs.
Various defendants or their lawyers either refused to comment for this article or did not respond to requests for comment.
The Charlottesville rally, organized to protest the removal of a statue of Robert E. Lee from Emancipation Park, was the largest public rally by the far right in the United States in recent memory, with some 600 participants.
But the fallout, including various marchers losing their jobs as well as a number of lawsuits, has been a factor in fostering clashes and overall disarray within the movements. Several organizations changed leaders or names, at least partly to avoid being identified with Charlottesville.
Some prominent defendants have groused publicly about the effect.
"This lawsuit that I am facing is just totally detrimental to what I am doing," Richard Spencer, a leader of the effort to mainstream far-right thinking, said in an interview on The Public Space, a YouTube channel.
Lawyers for Christopher Cantwell, another well-known defendant, asked the court to allow them to withdraw from his defense after the plaintiffs petitioned the court to order Mr. Cantwell to stop making threats, particularly against Roberta A. Kaplan, a New York lawyer who shaped the case from the start.
Mr. Cantwell, pleading poverty in court papers, said that remarks from his "Nazi themed entertainment program" were being misconstrued, and he called the plaintiffs' petition a further attempt to harass him because the evidence thus far had failed to prove a conspiracy.
Aside from Mr. Fields, four other men have been convicted on federal charges for beating a black man. The legal team for the plaintiffs in Sines v. Kessler said it was remarkable that more federal civil-rights criminal cases had not emerged from Charlottesville, though they acknowledged that the requirement to prove intent made the bar for such cases high.
In the past, using civil lawsuits to seize physical assets from extremist organizations was a key tactic in efforts to diminish them, but that has become more difficult as a younger generation of adherents has migrated from Klan dens or physical compounds into the nebulous world of the Web.
Still, to the plaintiffs, a civil lawsuit seemed to be the best alternative.
"Civil litigation allows us to hold those responsible for violence accountable in a way that other tools do not," wrote Ms. Shine, the lead plaintiff. "If you plan and execute violence — toward Jewish people, people of color, diverse communities like Charlottesville — you will be held responsible for your actions."
...