Vox: The alt-right is going on trial in Charlottesville
By: Integrity First for America News Coverage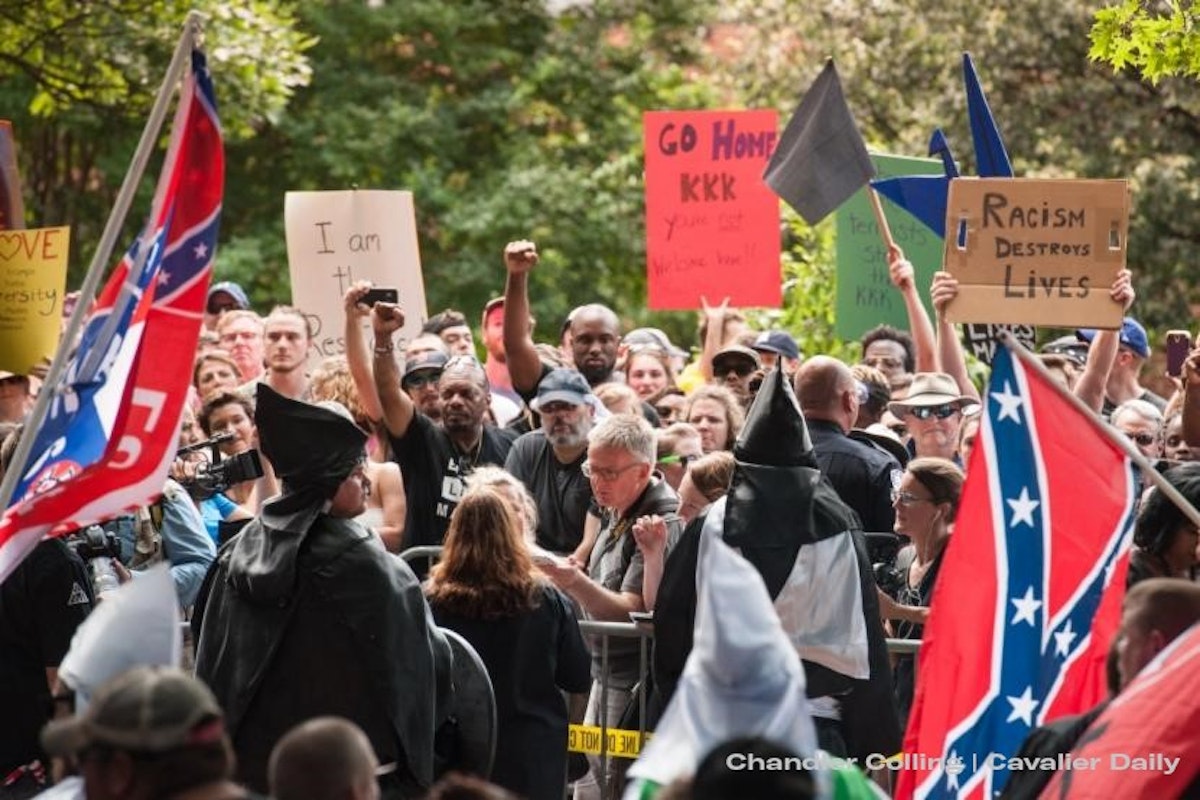 Cavalier Daily | Chandler Collins
(Mar. 8, 2018)—Vox reported on our Charlottesville case, Sines v. Kessler, writing:
[A] group of Charlottesville residents are fighting back against the white nationalists who took over their city. And they're going to court with money from [Integrity First for America] a new nonprofit group and with the lawyer who argued — and won — a landmark marriage equality case before the Supreme Court.

The plaintiffs in Sines v. Kessler are arguing that the Unite the Right rally wasn't an expression of free speech that got out of hand, but instead, as lead attorney Roberta Kaplan told me, "a direct conspiracy to commit violence."
Of IFA and the inspiration behind the Charlottesville case, reporter Jane Coaston says:
The case was filed in October, with a scheduling hearing set for March 16. If the plaintiffs win, it won't just be a legal victory. They could bankrupt the most virulent parts of the alt-right, a loosely affiliated far-right group that embraces white nationalism, and perhaps stop another Charlottesville from happening in the first place.

The plaintiffs in the case, underwritten by a new group, Integrity First for America, include Rev. Seth Wispelwey, a minister at Sojourners United Church of Christ in Charlottesville. He joined other faith leaders in protesting the Unite the Right rally, eventually blocking the entrance to a park where white supremacists intended to gather before they got shoved aside by rally attendees holding shields.

[...]

Kaplan said that the idea behind the suit against the Unite the Right organizers came from a 1990s lawsuit against the creator of the "Nuremberg Files" website, which listed the names and personal information (including home addresses) of abortion providers, complete with a legend: "Black font (working); Greyed-out Name (wounded); Strikethrough (fatality)." In Planned Parenthood v. American Coalition of Life Activists, a US district court eventually ruled that such websites that clearly encouraged readers to take a violent action constituted a "true threat."

Kaplan told me that in their case, she argues their evidence is even more direct. "The people who we sued weren't encouraging other people to [commit violence], they were encouraging their own co-conspirators and followers and themselves to do it." And tweets, podcast discussions, and transcripts from the gamer chat platform Discord show, in Kaplan and her co-counsel's view, that encouragement by the rally's organizers was ample and that attendees were expected to prepare for — and commit — violence in Charlottesville[.]
The article continues, reporting on the hopes of co-lead attorneys Roberta Kaplan and Karen Dunn, as well as those of the ten plaintiffs involved in Sines v. Kessler:
Kaplan, Dunn, and the other attorneys representing the plaintiffs in Sines v. Kessler are hopeful that the discovery phase of the lawsuit could help determine where the alt-right and the far right gets its funding. While some of the money that helped to fund Unite the Right came from crowdfunding sites like Hatreon, it's unclear whether other, larger funders played a part.

But Kaplan told me that if her clients win in court, "it is very unlikely that the monetary judgments that we will receive, ultimately, can be satisfied by these defendants."

And to her, and to the plaintiffs, that's not really the point — because they don't just want money, she told me. "They want justice."

"They want a judgment, a verdict, that what these people did is illegal and wrong," she said. "They want, like many cases in the justice system, to send a message of deterrence to other people who might be thinking about this. That if you do this, if you even try to do something like this ever again, the same thing's gonna happen to you."
The full article can be read on Vox, or found on IFA's Facebook and Twitter.