Washington Post profiles Charlottesville Defendants' attorney Elmer Woodard
By: Integrity First For America Blog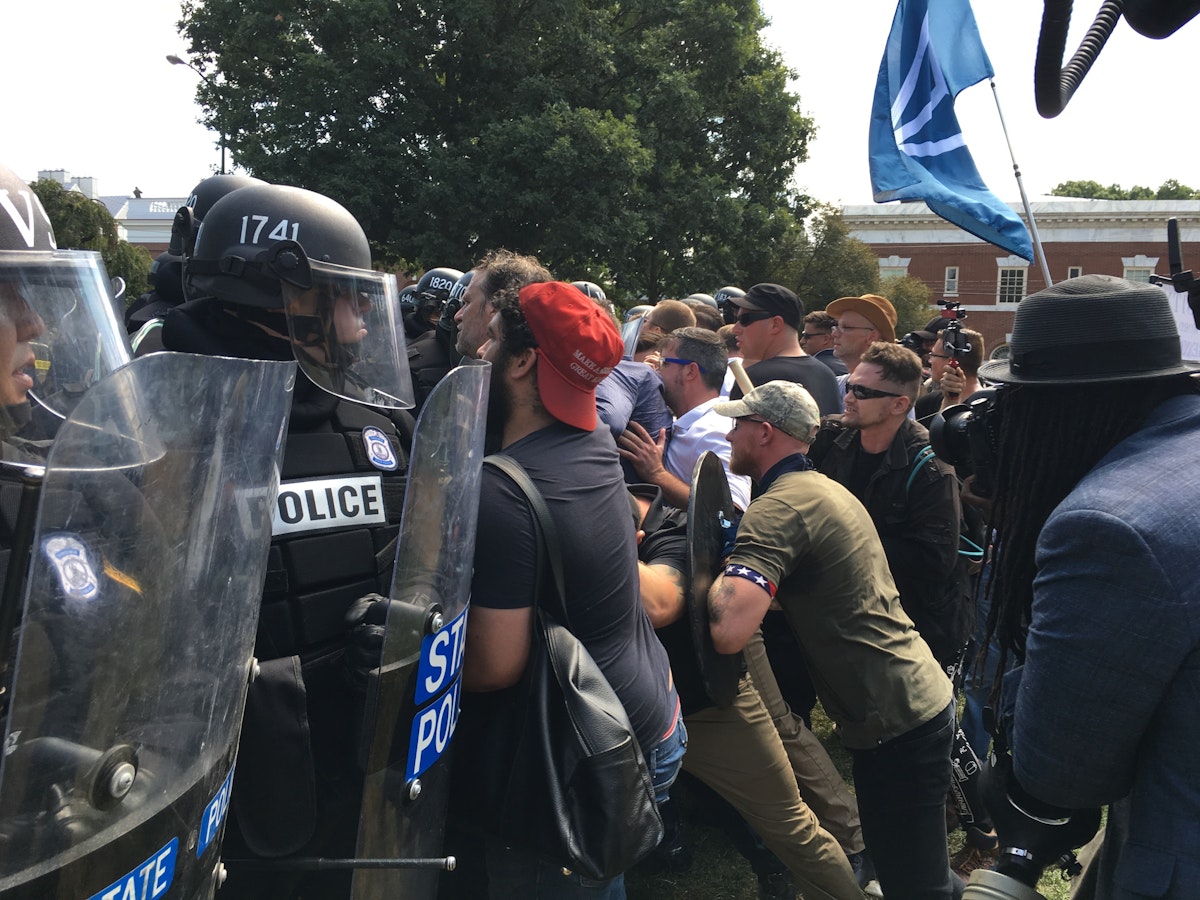 White supremacist protesters clash with police in Charlottesville | Wikimedia Commons
(June 2, 2018)—The Washington Post recently profiled Elmer Woodard, the attorney representing numerous Defendants in Sines v. Kessler, the landmark civil rights case funded by Integrity First for America in Charlottesville, Virginia. Woodard represents Jason Kessler, Chris Cantwell, Vanguard America, Matthew Heimbach, and others.
Woodard has become well-known for representing neo-Nazis and white supremacists in cases related to the "Unite the Right" rally last August. In addition to Sines v. Kessler, Woodard also represents Chris Cantwell in a lawsuit involving Charlottesville activist Emily Gorcenski:
The mutton-chopped Virginia defense lawyer, a one-time Civil War reenactor who's become the legal face of the white nationalist movement, was being asked by opposing attorneys in a federal lawsuit to do something seemingly minor: Call their client — Emily Gorcenski, a prominent counterprotester during last year's violent "Unite the Right" rally — by her legal female name in court pleadings. Stop referring to the transgender activist by her original male name or with male pronouns.

Woodard — who represents Christopher Cantwell, known as the "Crying Nazi" in the lawsuit — ignored them. Though Gorcenski's attorneys called the tactic a form of "intentional harassment" causing her "undue humiliation," Woodard doubled-down.

"Despite his efforts to the contrary, Gorcenski is not in fact a female human being, having been born with and retaining the XY chromosome," Woodard wrote in a February motion to the federal judge, Norman K. Moon. "Further, Gorcenski's presenting himself as a female is untruthful, mendacious and deceptive. He is free to suffer the consequences of his decision, but has no right to force others to condone his lie."

Woodard then tried to win over the judge with an attempt at humor.

"A United States District Court Judge is not a 'transmagistrate' . . . any more than counsel for Plaintiff is 'transthin,' 'transyoung,' or 'trans-not-balding,' " he wrote. "This motion should not be transdenied, but rather granted."

It didn't work. The motion was denied.
Of Woodard's early career, the Washington Post writes:
Woodard didn't start out his career as an alt-right defender.

The son of a former Navy officer, Woodard studied German at Washington and Lee University in Lexington, Va., then attended Campbell Law School in Raleigh, N.C. Armed with a law degree, Woodard went to work for the Virginia Legal Aid Society, a nonprofit organization that provides counsel to low-income people for civil cases.

"He enjoyed beating up bad guys. That's how he described it," said David Neumeyer, the non-profit group's longtime executive director.

After Woodard left Legal Aid, he spent the early 2000s representing people fighting automotive dealers — accusing them of lying about car wrecks or mileage history — and also got involved with a local tea party group. He was particularly steamed by the then-proposed Affordable Care Act, requiring Americans to purchase health-care insurance. He wrote in 2009 on the now-defunct Danville Tea Party website that Obamacare was "unconstitutional, and support of it is treason against the people of the United States."
Mr. Woodard's views have evolved since then. Reporter Ian Shapira continues:
By 2016, Woodard's politics had grown more extreme.

On his Facebook page, which a local blogger took an image of before his account was deactivated or made private, Woodard posted news about a gang of neo-Nazis attacking a vegan cafe in the country of Georgia, and wrote: "Another worry — sausage wielding neo Nazis at vegan cafes in Russia. Now that's funny!"

That same day, he posted a Bloomberg story about modern slavery, writing, "The only thing that matters is that blacks in America, NONE of whom were ever a slave, can claim that they are oppressed." He added: "Ignore the 10% of black slaves that were owned by blacks in America. None of that matters. The only thing that matters are the feelings of blacks in America now."
In Sines v. Kessler, Woodard has joined forces with anti-Semitic attorney James Kolenich to represent Defendants.
Woodard also has joined forces with James Kolenich, an unabashedly anti-Semitic attorney from Ohio, to defend several white nationalist leaders, including Kessler, from two lawsuits filed by Charlottesville residents and businesses seeking to stop them from holding similar events.

Kolenich told the Cincinnati Enquirer in February that he took the Virginia case to "oppose Jewish influence in society" and questioned whether the Holocaust happened, referring to the number of Jews killed as "the magic six million."
The full article can be read on the Washington Post's website. More case updates will be posted on IFA's Twitter and Facebook pages.