February Newsletter
By: Integrity First For America Blog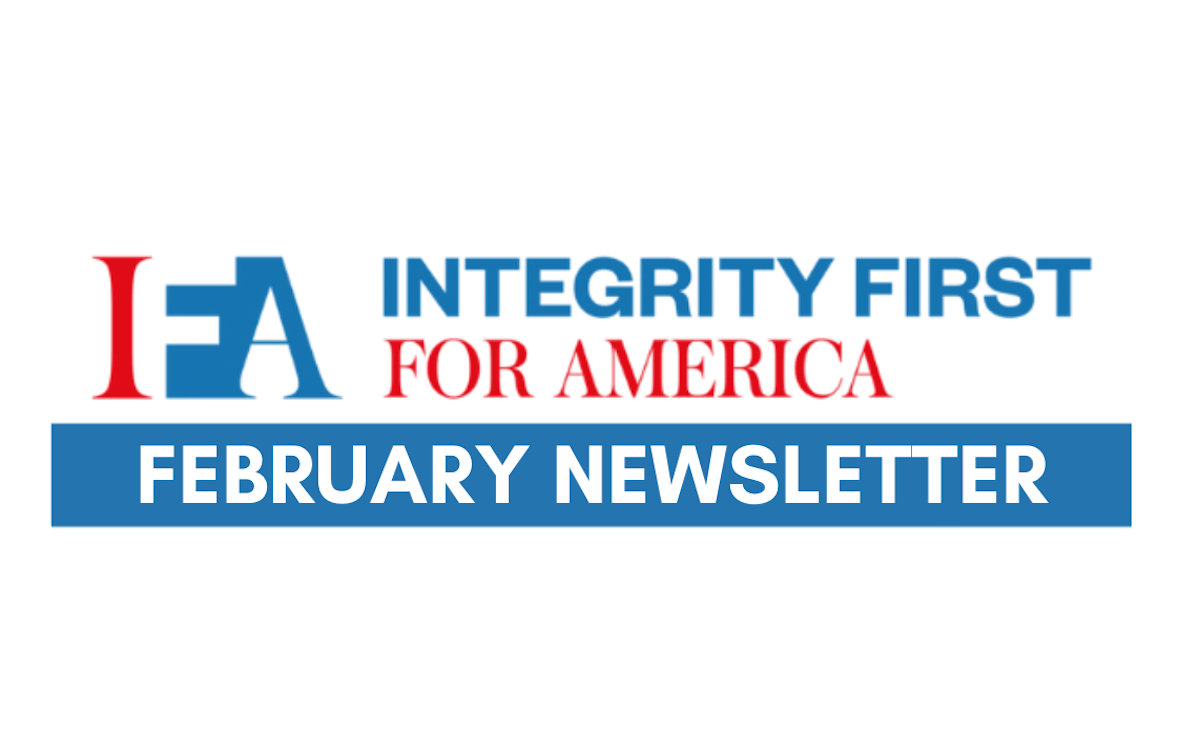 February 2021
1. Neo-Nazi Christopher Cantwell Sentenced to 41 Months

Neo-Nazi Christopher Cantwell—who is a defendant in our Charlottesville lawsuit—was sentenced this week to 41 months in prison in a separate rape threat case.

Just two days after the threat for which he was sentenced, Cantwell also threatened our lead counsel Roberta Kaplan on the same platform.

While we are all safer with Cantwell in prison, we know that justice has not yet been fully served. Our plaintiffs are committed to holding him accountable at trial this fall for the racist violence he brought to Charlottesville.
2. Right-Wing Extremists Responsible for Nearly All 2020 Extremist Murders

The 2020 Murder and Extremism Report from the ADL's Center on Extremism found that extremist-related murders in the U.S. in 2020 were overwhelmingly associated (94%) with right-wing extremists—with over half linked to white supremacists. This data follows the same trend as much of the last 30 years.

Another report from the Department of Homeland Security acknowledges what many experts have long highlighted: right-wing extremists were responsible for the majority of fatal domestic terrorist attacks last year.

Far-right extremism is a dire threat to our country—making it all the more critical that we hold these extremists accountable through efforts like our Charlottesville suit.
3. KKK Act of 1871: Newly Relevant, 150 Years Later

Exactly 150 years after it became law, the Ku Klux Klan Act of 1871 is newly relevant—a sad testament to the alarming rise in violent white supremacy and far-right extremism.

The KKK Act is central to our Charlottesville lawsuit, which details a racially-motivated violent conspiracy, precisely what the law was designed to address. And just last week, the NAACP and Congressman Bennie Thompson filed a new lawsuit over the Capitol insurrection, also using the KKK Act.

We know that our Charlottesville case can serve as a model for accountability at a moment when it's sorely needed.
4. Anti-Asian Racism and Hate Crimes

Racist violence against Asian Americans—exacerbated by the COVID-19 pandemic—is on the rise. This month, reports from San Francisco to New York have detailed horrifying attacks against Asian Americans, with many targeting the elderly.

Stop Asian American and Pacific Islander Hate recorded nearly 3,000 reports of anti-Asian hate incidents nationwide between March and December 2020; the NYPD reported a 1,900% increase in anti-Asian hate crimes last year.

As we grapple with the overall rise in hate crimes, it's critical that we specifically name and address these horrific attacks against the Asian American community.
5. IFA Virtual Events

This month, we hosted a number of virtual programs with partners and communities across the country. Here are a few highlights:

At our event with The Forward, IFA's Amy Spitalnick joined Eric Ward and Joanna Mendelson to discuss the groups and movements threatening our democracy, how they organized and rose to prominence, and what we can do to restore our democratic principles to the fore.

In Nashville, we were joined by John Seigenthaler and community leaders Sabina Mohyuddin and Reverend Davie Tucker for an important discussion on our Charlottesville lawsuit and how to hold extremists accountable.

In Ann Arbor, it was an honor to join Michigan Secretary of State Jocelyn Benson, State Representative Felicia Brabec, and Prosecuting Attorney Eli Savit—as well as a number of local faith leaders—for a conversation that explored the local and national fight against violent extremism.

If you'd like to attend an upcoming IFA event, please join us this Wednesday at 7pm CT / 8pm ET when lead counsel Roberta Kaplan and IFA's Amy Spitalnick will share the latest on our Charlottesville case and the fight against violent white supremacy. Register here!
The attack on the Capitol last month shed light on an indisputable truth: violent white supremacy and far-right extremism are a dire threat to our democracy and our security—a threat that must finally be treated with the urgency it deserves.

At IFA, we're doing just that, using our justice system to fight back.