Week Four of the Unite the Right Trial: It's in the Jury's Hands
By: Integrity First For America Blog
Testimony concluded this week in our Charlottesville trial. We've made our case -- and it's now in the jury's hands.

As the jury deliberates and we await a verdict, it's clearer than ever why this case is so important.

Our country is in the midst of a crisis of escalating political violence and hate, where there's been far too little accountability and far too little justice.

We've seen in recent years and recent days the cost of our country's systemic failure to address this crisis. Extremists become more emboldened, our communities become less safe, our democracy becomes more vulnerable.

With our case we're sending a clear, resounding message that there are consequences for violent hate.

As The New York Times wrote this week, even before a verdict, our lawsuit "has achieved a goal of deterring extremism." We've already had major financial and operational impacts on white supremacist leaders and hate groups.

The final verdict has the potential to truly bankrupt and dismantle the groups and leadership at the core of the white supremacist movement. Our case can become a model for holding extremists accountable -- and helping stem the tide of violence.

Here's what happened in the courtroom this week:
---
Defendants wanted a battle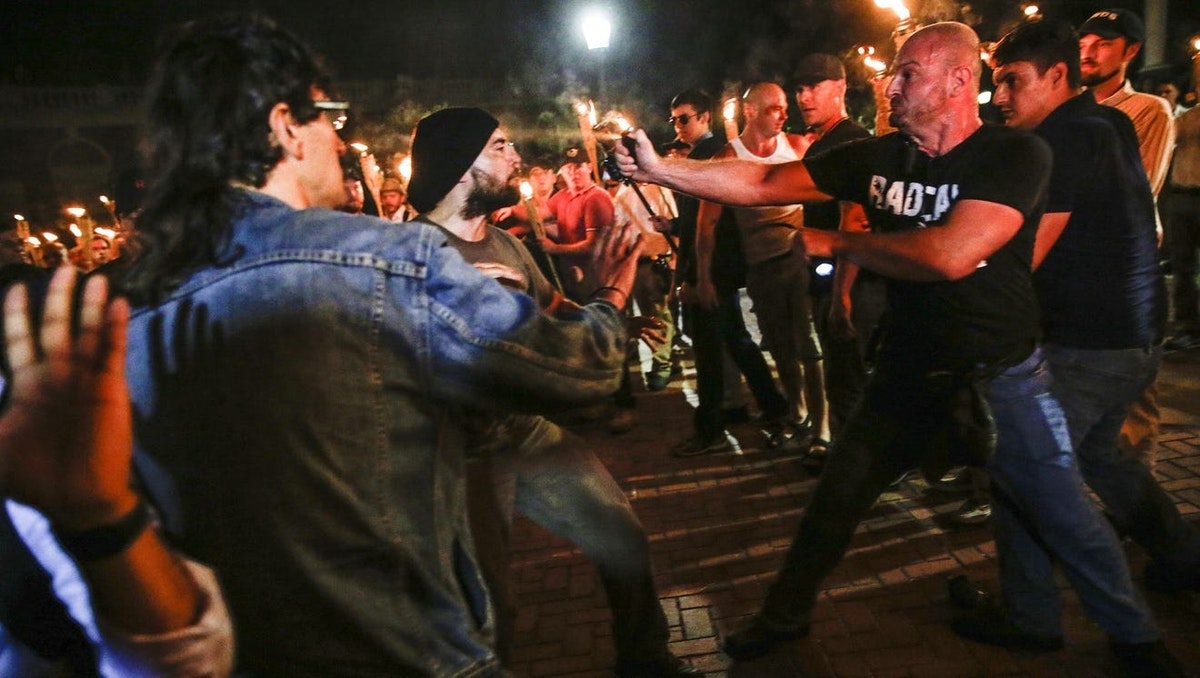 Week four of the Unite the Right trial began with testimony from the defendant who set the Unite the Right violence in motion four years ago: Jason Kessler.
The jury saw where it all began: a Discord post on an alt-right server. Kessler posted that it was time for a "Battle of Berkeley situation" in Charlottesville. "Bring in the alt-right," he wrote, "and let's fight this sh*t out in the streets." No mention of defending statues. No call for a peaceful rally. From day one, the organizer of Unite the Right envisioned the event -- and described it to co-defendants -- as a battle.
Kessler then recruited an army for the battle. On the stand, Kessler confirmed he texted Richard Spencer: "We're building an army, my liege. For free speech, but the cracking of skulls if it comes to it." Plaintiffs then laid out, and Kessler confirmed, how he brought in violent co-defendants to fill out the army, specifically asking them to promote the event to their followers and recruit skinhead groups on the furthest fringes of the right. Defendant Jeff Schoep - leader of the country's largest neo-Nazi group - pledged to bring "men who are battle-tested in the streets."
Through Discord chats, texts, phone calls, and in-person meetings, he coordinated with co-defendants every day. His communications left no doubt that he intended Unite the Right to be a violent event. He gave recommendations of "free speech tools" that could double as weapons for bludgeoning counterprotesters. He recommended strategies for making clashes with "antifa" more likely. He misled the police on the expected number of Unite the Right attendees. And he directed others in the conspiracy to create fake social media accounts to try to goad "antifa" into confrontations.
Like many other defendants in this case, Kessler moved quickly to destroy evidence -- immediately texting Elliot Kline to delete the Discord server where much of Unite the Right was planned. He testified he wanted the server deleted because there were offensive jokes being made about Heather Heyer. Our attorney Karen Dunn reminded the jury of the months of obscene content he'd tolerated on the Discord server -- "Where does he think we've been for the last month?" -- and Kessler's own tweet mocking Heyer and calling her death "payback time."
The last defendant that plaintiffs called this week was violent neo-Nazi podcast host Christopher Cantwell, who is representing himself. Cantwell has repeatedly sworn at opposing counsel, dropped the N-word in open court, and played videos of the assaults he committed during Unite the Right.
Cantwell has not tried to hide his racist views -- before or during trial. Days before Unite the Right, he blamed Jews for communism -- our expert witnesses have shown how defendants frequently use 'commies' to refer to Jews -- and said it was a good reason to "genocide a group of people." He testified that he viewed Black people as a threat to his existence. And he's used racial slurs regularly throughout his defense.
Cantwell was also forthcoming about his encouragement of violence. He acknowledged that he had plenty of extremists among his listeners, who would engage in whatever violence he asked of them. He said a purpose of his podcast was to make people as angry as he could so they will be moved to "slaughter their enemies."
In his opening statement, Cantwell testified that he really didn't know his fellow defendants. But plaintiffs demonstrated that he coordinated closely with them in the lead up to Unite the Right. He'd hosted a number of co-defendants on his podcast, including Kessler to promote Unite the Right. He ended up living with full-time Unite the Right organizer Elliot Kline. And he texted Richard Spencer four days before the rally: "I'm willing to risk a lot for our cause, including violence and incarceration. But I want to coordinate and make sure it's worth it for our cause." Spencer responded: "to me, it's worth it."
And of course, Cantwell did engage in violence in Charlottesville, pleading guilty to two acts of assault and battery. In jail, he hugged James Fields and gave him a Nazi salute.
Our plaintiffs rested their case with video from the deposition of white supremacist Benjamin Daley, who marched alongside the defendants in Charlottesville. He's been convicted of charges related to brutal, unprovoked assaults that weekend. This exchange was particularly notable:
Q: "You did conspire with other people to commit violence at the Unite the Right rally?"
A: "Yes."
---
Closing arguments
Over four weeks of trial, our plaintiffs offered overwhelming evidence that the defendants conspired to commit racially-motivated violence at Unite the Right. It was never intended to be a peaceful protest -- from the very beginning it was envisioned as a battle.

During their two and a half hour closing arguments on Thursday, lead attorneys Roberta Kaplan and Karen Dunn presented that evidence once more in detail, providing charts that showed the coordination between defendants, the violence they committed, and the catastrophic impact it has had on the lives of our plaintiffs.

They reiterated that, unlike in a criminal case, the burden of proof in this case is not 'beyond a reasonable doubt' but, rather, a 'preponderance of the evidence.' The plaintiffs only have to show that it's more likely than not that defendants entered into a conspiracy (full jury instructions can be found here).

They reminded the jury that the court has already established as fact -- through evidentiary sanctions -- that two key defendants entered into an unlawful conspiracy, motivated by racial animus, and that the violence that occurred was reasonably foreseeable to them. One by one, they showed how each of the other defendants were part of that conspiracy and caused -- or in some cases committed -- the violence.
It started with a Discord post from Jason Kessler about the need for a battle in Charlottesville where the alt-right could "fight it out."
It widened as Kessler reached out to the members of the hard-right Nationalist Front and alt-right celebrities like Christopher Cantwell and Richard Spencer, who then promoted it to their extremist followers. The messaging was overtly violent -- in promotional materials, the Discord servers, and their public social media feeds, there was talk of cracking skulls, repurposing shields and flags as weapons, and hitting protesters with cars. It's shocking how many defendants posted and encouraged car rammings in the lead up to Unite the Right.
And it played out on the streets of Charlottesville on August 11 and 12. A violent torch march, where defendants attacked counterprotesters with tiki torches, fists, and mace. A charge through the streets, where shields and flags were used to beat counterprotesters. A car ramming that killed Heather Heyer and injured dozens. All variations on the same theme: Defendants located their 'enemies' and attacked.
And in the end, as we've seen, defendants celebrated and ratified the violence -- because it was what they'd wanted all along. They've denied it during this trial, of course. But the evidence is clear.
Christopher Cantwell posted on Facebook about the "bleeding commie filth we sent to the morgue and hospitals." Not "James Fields sent." He posted: "we sent."
Traditionalist Worker Party leader Matthew Parrott declared, "Charlottesville was a tremendous victory" that established the alt-right as "a fearsome street-fighting force." He named James Fields a "TWP member for life."
Matthew Heimbach wrote James Fields a letter about how they'd "marched into battle together" and called him a martyr.
League of the South leader Michael Hill put it simply: "We wanted a public confrontation in Charlottesville for the world to see, and we got it."
It went on and on -- mountains of damning evidence against every one of the defendants. (If you're looking for more than we can provide in this brief recap, check out our previous weeks' summaries here).

At the end of the closing, Kaplan reminded the jury of the stories of our nine brave plaintiffs, and urged them to award specific compensatory damages for their ongoing injuries. Some still suffer debilitating physical injuries. All are grappling with the ongoing psychological and emotional impacts.

She closed by explaining that the jury is free to also award punitive damages, and that the amount is theirs to determine. She told them to ask themselves one question: "What would it take to make sure that defendants and their co-conspirators never, ever do anything like this ever again?"
---
Media Highlights
Our trial continues to garner extensive national and local media coverage. As always, you can find additional media highlights in IFA's Newsroom.