Charlottesville Plaintiffs File New Motion To Compel Discovery From Defendant Jeff Schoep
By: Integrity First For America Press Releases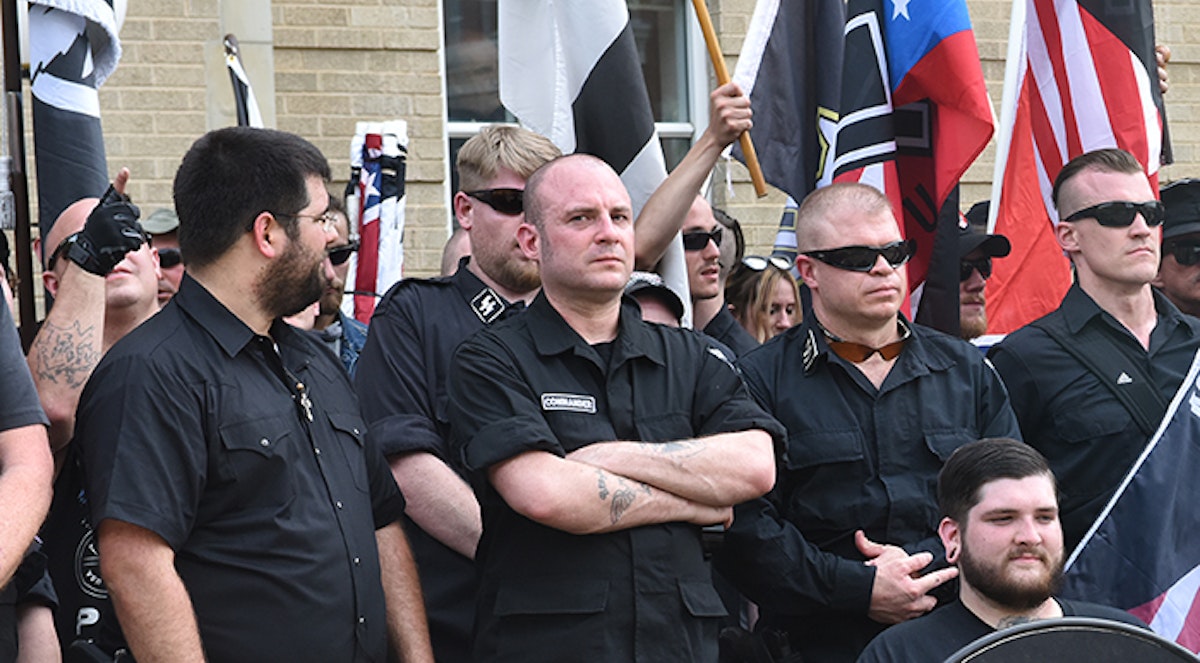 AP Images/Brian Bohannon via SPLC
Former NSM leader and other neo-Nazi defendants try to avoid accountability in Sines v. Kessler, the federal lawsuit backed by IFA against those responsible for the August 2017 violence
Schoep has only produced gibberish and other non-responsive documents since January 2018; sworn testimony by current NSM commander reveals Schoep continues to communicate with neo-Nazi group – including making new discoverable communications – despite claims to have left the movement
Schoep and other defendants have already been sanctioned by the court for flouting discovery orders
CHARLOTTESVILLE – Plaintiffs in Sines v. Kessler – the landmark federal lawsuit backed by Integrity First for America against the neo-Nazis, white supremacists, and hate groups responsible for the Unite the Right violence – filed a new motion to compel discovery from defendant Jeff Schoep, the former leader of neo-Nazi hate group National Socialist Movement.
Today's motion details Schoep's long track-record of flagrantly defying court orders and discovery obligations.
"Like many of his co-Defendants, Schoep's conduct in this litigation reflects a pattern and practice of resistance, recalcitrance, and outright defiance of Court orders and Schoep's discovery obligations," the motion states.
"After refusing for more than a year to produce anything to Plaintiffs, Schoep did the minimum possible to attempt to avoid [further] sanctions. Even then, the cellular phone that Schoep provided (which he admitted he had used to communicate regarding Unite the Right) was water-damaged, and its contents unrecoverable, because it had allegedly fallen in a toilet. Now, despite being in the possession of another electronic device containing unquestionably responsive documents—his new phone—Schoep, through his counsel, W. Edward ReBrook IV, has repeatedly refused to produce that device to Plaintiffs."
Schoep and NSM were key organizers of the Unite the Right violence in Charlottesville over August 11 and 12, 2017. The lawsuit backed by IFA details how the defendants meticulously planned the violence for months in advance (including via social media and other online channels).

The plaintiffs are a coalition of Charlottesville community members injured in the violence. They have repeatedly sought to hold the defendants accountable for their actions and discovery obligations. Trial is scheduled for October 2020.

The plaintiffs first served Schoep with discovery requests in January 2018. Since then, he has "done everything in his power to avoid complying with his discovery obligations—in fact, Schoep produced nothing at all until after Plaintiffs moved for sanctions against him."
In April 2019, the court sanctioned Schoep and ordered him to immediately turn over critical evidence; yet Schoep and his attorney still have barely produced anything. While over 22,000 files on Schoep's computers and accounts matched the agreed-upon search terms, only 100 documents were produced to plaintiffs – either unreadable gibberish files with no substance, case filings and correspondence, or Google Alert notifications. At the same time as he was producing this trickle of non-responsive documents, plaintiffs became aware that he was also sitting on a trove of other responsive and discoverable material, including a new cell phone.
Schoep has also repeatedly claimed that he's left NSM and the white supremacist movement. Yet the motion quotes sworn testimony by current NSM commander Burt Colucci, revealing that "Schoep has simultaneously remained in steady communication with Colucci throughout this litigation from his new phone, including making discoverable communications regarding topics relevant to this litigation." Plaintiffs are seeking those communications, including text messages and telephone records regarding Unite the Right, from the previously undisclosed phone—none of which were produced to the plaintiffs or to the third-party vendor for imaging.
The plaintiffs are urging the court to require Schoep to immediately turn over his new phone for imaging and collection of responsive documents; all responsive documents should be turned over to the plaintiffs without opportunity for Schoep or his counsel to review.
"Our plaintiffs won't allow these neo-Nazis and white supremacists to avoid accountability for the racist violence they brought to Charlottesville," said IFA Executive Director Amy Spitalnick. "We're committed to bringing them to justice for their actions."

Other defendants have already faced significant sanctions for flouting discovery orders. In January, defendant Elliott Kline (aka Eli Mosley) was thrown in jail and sanctioned thousands of dollars; last year, the plaintiffs won sanctions against defendants Kline, Matthew Heimbach, Vanguard America, and Schoep.
###
Integrity First for America (IFA) is a nonpartisan nonprofit organization dedicated to holding those accountable who threaten longstanding principles of our democracy—including our country's commitment to civil rights and equal justice. IFA is backing the landmark federal lawsuit against the two dozen neo-Nazis, white supremacists, and hate groups responsible for the August 2017 violence in Charlottesville. Trial is scheduled for October 2020. To learn more about the case, click here.