Protecting our right to vote in the face of far-right extremist threats
By: Integrity First For America Blog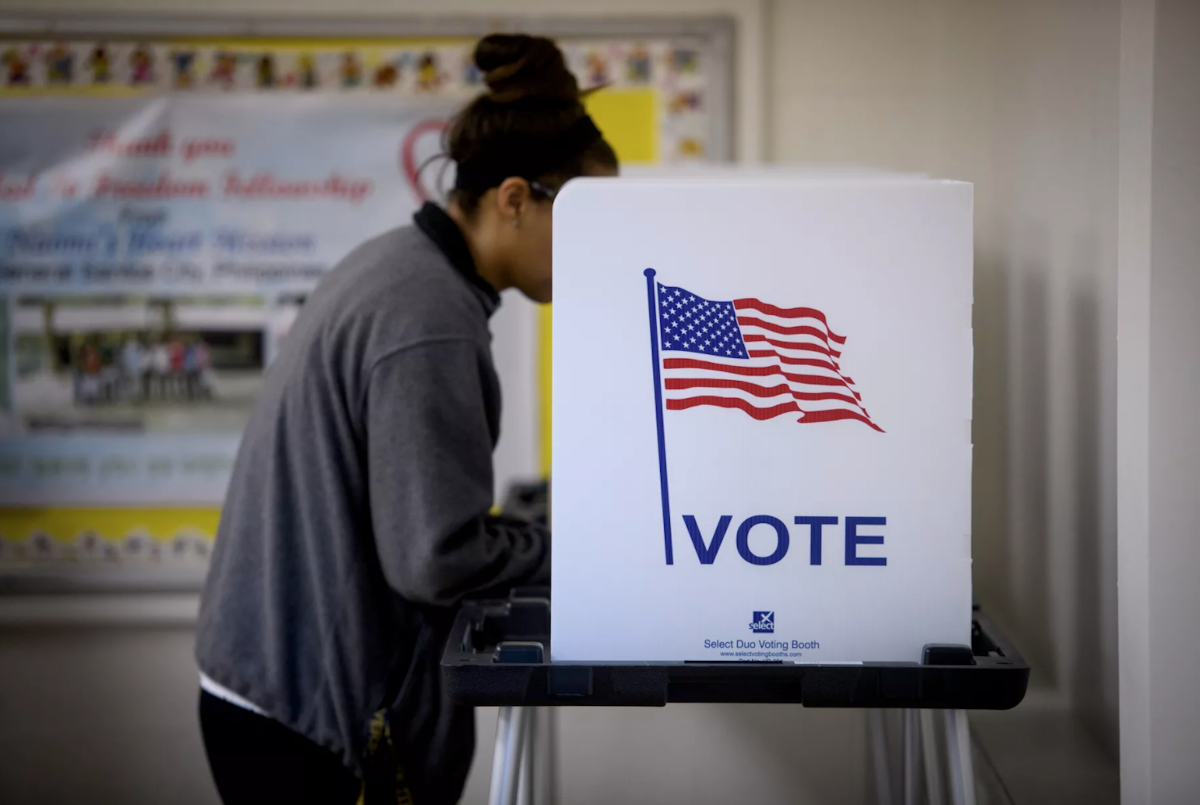 Justin Merriman/Getty Images
We are living through unprecedented times when it comes to the threats against our communities and our democracy. From the coronavirus pandemic to the national reckoning on racial justice, far-right extremists have already sought to exploit the uncertainty of this moment to further their hate, terror, and violence. At IFA, we've seen firsthand how threats made online can result in real-world consequences.
Now—fueled by conspiracy theories and emboldened by those at the highest levels of government—far-right extremists are discussing potential violence around the election.
It's critical that we understand the goal of these violent extremists: to undermine Americans' fundamental rights in pursuit of a hateful vision for this country.
As we saw in Charlottesville in 2017, and many times since, neo-Nazis and white supremacists used violence to deny peaceful counter-protesters and community members their civil rights—attacking them for their race, religion, or their commitment to fighting for the rights of others.
We're seeing the same tactics now. Far-right extremists seek to use violence, intimidation, and disinformation to attack our fundamental right to vote, deny Americans their civil rights, and undermine the integrity of our voting system if there is an outcome that they refuse to accept.
To be clear: we know that the vast majority of Americans reject this extremism—and we cannot let these extremists intimidate or discourage us from exercising our rights, including the right to vote.
Report disinformation and conspiracies if you see them, engage in good social listening skills, push back where necessary, and engage the right authorities and stakeholders if you see a problem. There is no shortage of ways to support the rule of law and uphold our American values. This is a moment to be aware and act if necessary—and most of all, it's a moment to exercise your right to vote.
Conspiracy theories and disinformation
Far-right extremists promoting conspiracy theories, like QAnon, have been spreading disinformation about voter fraud leading up to the election.
For months, QAnon supporters have been flooding social media with false information about COVID-19, Black Lives Matter, and the 2020 election. [1]
More than 1 in 50 tweets about voting in the 2020 elections in August and September were posted by QAnon accounts, according to research released by the nonpartisan nonprofit Advance Democracy. The research also found that 2 in every 25 tweets using the hashtag #voterfraud originated from QAnon accounts. [2]
The threat of foreign interference adds yet another layer of disinformation on the internet.
Intelligence officials have confirmed that Russia and Iran have obtained Americans' voter registration data in an effort to influence the election. Proud Boys hoaxes, threats, and spam—some seemingly driven by foreign actors—are surging before the election. One email claiming to be from the Proud Boys stated, "You will vote for Trump on Election Day or we will come after you. Change your party affiliation to Republican to let us know you received our message and will comply. We will know which candidate you voted for. I would take this seriously if I were you. Good luck." [3]
Voter intimidation and violence by far-right extremists
According to Reuters, U.S. intelligence is reporting a likely increase in extremist threats leading up to November 3rd. [4]
When President Trump told violent extremists to "stand by" at the first Presidential debate, the Proud Boys gleefully celebrated online and turned the president's comments into their new slogan.
The next day, one of the country's leading neo-Nazis Andrew Anglin—a defendant in our Charlottesville suit—embraced Trump's comments as a rallying cry for a race war. He wrote in the Daily Stormer, "I got shivers. I still have shivers. [Trump] is telling the people to stand by. As in: get ready for war. He's not going to let these people just roll over him with this [voter] fraud plot."
Fueled by voter fraud disinformation and other conspiracies, these far-right extremists are prepared to defend the president this fall, potentially using violence.
We are providing a compilation of resources to help you play an active role in our democracy at this critical moment:
Democracy for President: How do we talk about political violence?
Brennan Center for Justice: Voters Should Not be Intimidated
ADL: Securing a Free and Fair Election Portal & Countering Election-Motivated Violent Extremism and Beyond
The Lawyers' Committee for Civil and Human Rights and its Stop Hate Project provides resources to individuals and communities combating hate. They also run a hotline to report incidents and get advice: 1-844-NO-HATE. The Lawyers' Committee is also powering 866OURVOTE with election protection resources and hotlines: 866OURVOTE.
Everytown for Gun Safety: Preventing and Responding to Illegal Armed Voter Intimidation and Election Interference.
Georgetown Law Institute for Constitutional Advocacy and Protection: Addressing the Rise of Unlawful Private Paramilitaries - State Fact Sheet
Coalition to Stop Gun Violence: Guns Down at the Polls: How States Can and Should Limit Firearms at Polling Places
Mediators Beyond Borders: The Trust Network includes a list of trainings, a powerpoint resource guide, and articles.
Southern Poverty Law Center's Hate Map provides updates on active hate groups in states.
Political Research Associates: Paramilitaries at the Polls.
Security Positive: Safety Planning Your Visit to the Polls.
Other organizations doing critical work in this space include: Common Cause and 866OurVote, The League of Women Voters, Fair Elections Center, ACLU, Democracy Fund.
If you'd like to suggest a resource to be added to this page, please email us at [email protected].