Week Two of the 'Unite the Right' Trial: Here's What Happened.
By: Integrity First For America Blog
Week two of our Charlottesville trial began the same way it ended -- with testimony from our brave plaintiffs whose lives were upended by the Unite the Right violence.
In between, the jury heard from -- and about -- those responsible: the neo-Nazis, white supremacists, and hate groups who meticulously planned the violence in the months leading up to their "Battle of Charlottesville." Our team outlined the connections between the defendants, exposed their racist and antisemitic motivations, and detailed how Unite the Right organizers coordinated, executed, and celebrated the deadly violence.
Defendants spoke admiringly of Hitler, dropped the n-word in open court -- for the second time in this trial -- and even paused in the midst of questioning to ask one another about their favorite Holocaust joke.
Expert witness Deborah Lipstadt remarked at one point that, even as a scholar who studies the Holocaust, she was "taken aback" by the hatred espoused by the defendants. No less shocking was the mountain of evidence presented throughout the week about defendants' plans for and glorification of mass violence -- including hopes that Unite the Right would be the beginning of a "racial holy war."
It all underscored why this case is so important. If you agree, we hope you'll support us.
Charlottesville plaintiffs recount their darkest moments
The week was bookended by testimony from two plaintiffs: Devin Willis and Thomas Baker. The former told the court how he feared for his life on the night of the tiki torch march. The latter believed, as he was thrown in the air during the car attack on August 12, that he was going to die before hitting the ground.
• Devin Willis arrived at UVA a sociable, outgoing student. He was near the top of his high school class. He was elected prom king.
On August 11, 2017, he was among the small group of students peacefully counterprotesting the torch march on UVA's campus. The neo-Nazis quickly surrounded them and singled out Devin, who is Black. They made monkey noises and threw torch fuel while waving their flames in his direction. He testified that he thought he was going to be burned alive. Before escaping, he absorbed punches and kicks while trying to climb up the statue to avoid the flames.
The violence and abuse he experienced that night and the next day left him shaken. He testified that he lost confidence, became withdrawn, was unable to concentrate, and saw his grades plummet. Devin wanted to excel in college, he said. "Instead, I was just happy to have graduated on time."
• Thomas Baker had just moved to Charlottesville when news began circulating that white supremacists were planning a major event downtown. He decided that he needed to stand with the members of his new community and join the peaceful counterprotest.
He was standing in a jubilant crowd on August 12, after UTR participants had mainly dispersed. Then he heard screaming and thumping. His legs were hit first by James Fields' car, then he slammed into the windshield. When he landed on the pavement, he had a concussion, torn ligaments in his wrist, and severe injuries to his hip. Somehow, before he collapsed completely, he stood up and carried the man next to him out of the way of Fields' reversing Dodge Challenger.
Recovery was excruciating for Thomas. He now walks with a limp and is unable to run. Unexpected loud noises trigger flashbacks.
Despite all they've been through -- and still grapple with -- Devin and Thomas chose to relive their trauma in court this week to ensure that those responsible are held accountable.
During his testimony, Thomas was asked why he ultimately decided to attend the counterprotest in the first place. "When you know something is right, but you might be fearful to stand up," he responded, "that's precisely when you need to stand up."
You can support these brave plaintiffs in their fight for justice and accountability by donating to IFA >>
Nazi symbols and parallels at Unite the Right -- Testimony from Deborah Lipstadt and Diane D'Costa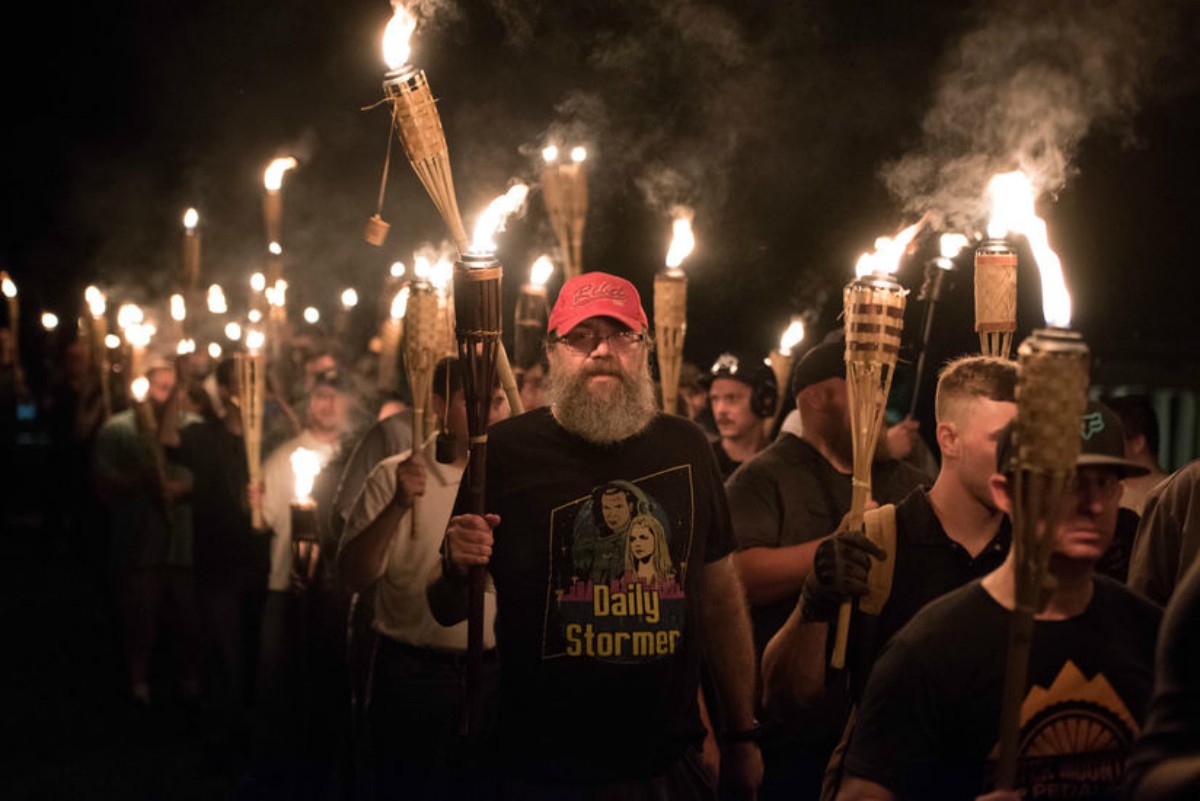 Like Devin, Diane D'Costa was an undergrad at UVA during the torch march. She was called Wednesday as a fact witness and described her experience, as a Jewish woman of color, hearing neo-Nazis march directly outside her dorm room chanting "Jews will not replace us."
She hid her ring and necklace which could identify her as Jewish and eventually made her way off campus to safety -- recalling, as she did, stories she'd heard of her grandparents fleeing Nazi-occupied Poland.
Expert witness Deborah Lipstadt -- President Biden's nominee for special envoy to combat antisemitism -- testified later that day that elements of the event were intended to evoke the Third Reich, from the torch march, to the overt use of swastikas, to the defendants' Nazi salutes and shouts of "sieg heil."
Lipstadt contextualized the symbols that were used in the marketing and execution of the event, and explained how antisemitism and white supremacy were interconnected through "Replacement Theory" -- the vile conspiracy theory that motivated not just the Charlottesville violence, but also the Pittsburgh, Poway, El Paso, and Christchurch attacks.
"We will not be replaced," is not an affirmational chant, she explained. It's saying "what's in the cards is a possible elimination of your group… It's a call to battle."
You can read Lipstadt's full expert report here.
Praising Hitler, Planning Race Wars, Discussions of Ramming Protesters in the "Fash Loft" -- Defendant Testimony
• Matthew Heimbach - Early in the cross-examination of defendant Matthew Heimbach, our co-lead attorney Karen Dunn confronted him with a message he'd sent on Discord on "wag[ing] a war of extermination" against the Jews. He later testified that he believed Hitler "did nothing wrong."
Over a full day of questioning, plaintiffs showed that Heimbach was closely involved in planning and recruiting for Unite the Right. At the behest of lead organizer Jason Kessler, Heimbach tried to involve skinhead groups known for rampaging violence. He even invited a fascist political party from Greece to join.
Heimbach acknowledged that he supplied shields to members of his Traditionalist Worker Party (also a defendant) that were used in the beating of Deandre Harris. The plaintiffs showed video of a smiling Heimbach shouting "shields up" just before those shields were used to charge into counterprotesters.
The jury also saw a Heimbach tweet from before Unite the Right recommending that, if protesters are blocking your path, you should "#HitTheGas." And they saw a letter Heimbach sent to James Fields in prison: "You, my friend," Heimbach wrote to the convicted murderer, "are a martyr for our folk."
• Robert "Azzmador" Ray - Neo-Nazi defendant Ray has refused to cooperate in this case, and the court has already granted major evidentiary sanctions -- establishing as fact the core allegations of our lawsuit, that Ray "entered into an agreement with one or more co-conspirators to engage in racially-motivated violence in Charlottesville."
Nonetheless, evidence collected against Ray shines light on the defendants' coordination and expectation of violence. Our plaintiffs presented that evidence to the jury on Wednesday.
Ray's communications demonstrated that he worked closely with the other organizers on recruitment and planning. "I just got done with an hours long chat with some of the event organizers," Ray wrote on Discord. "The plan is the same. Gas the k**es..." Another post said he spent 50 hours in three days networking with other groups ahead of the event. He responded to a question about weapons saying his "guys would be bringing lots of nifty equipment," and opined in a Discord channel that "our guys need to get a grip on the fact that they're gonna have to physically fight these people."
• Elliot Kline (aka Eli Mosley) - Kline is the former leader of hate group (and defendant) Identity Evropa. Plaintiffs have won evidentiary sanctions against him, similar to those granted against Robert Ray.
Testimony from his deposition was played for the jury Wednesday, in which Kline acknowledged he was organizing for Unite the Right full-time in the months before the event. He detailed weekly Discord voice chats with other defendants and co-conspirators, and said he spoke even more regularly with defendants Richard Spencer (nearly daily) and Jason Kessler (4-5 times a week). He referred to the organizers as a "resistance fighting force."
Kline admitted to writing a number of Discord messages endorsing and predicting violence in Charlottesville -- including one post advising that "impaling people is always the best option, tbh." Throughout his testimony, he tried to dismiss messages like these as "just humor."
But when his ex-girlfriend Samantha Froelich testified, she rejected that excuse: "It's not jokes. It's cover." Froelich's testimony was some of the most explosive of the trial thus far. A former member of Kline's group who has since left the white power movement, she testified that Kline viewed Unite the Right as the "first battle" of a "racial holy war." And he believed it was his chance to lead the white race into battle.
Froelich also revealed that Identity Evropa members discussed the legality of hitting protesters with cars in the lead up to the "Battle of Charlottesville." She said the conversation happened at Richard Spencer's apartment.
• Richard Spencer - Spencer has tried to separate himself from the other defendants throughout trial, presenting himself as a genteel intellectual with little more than a speaking role at Unite the Right. But under masterful questioning from our attorney Michael Bloch, the facade caved.
Over hours of questioning, including audio of Spencer's racist diatribes, our plaintiffs exposed the leader of the alt-right as a Nazi-saluting racist who has proclaimed he was "born at the right time for the race war."
The plaintiffs showed that Spencer was deeply involved in the planning, execution, and celebration of violence in Charlottesville -- producing phone and text records that proved he contacted other organizers far more than he'd initially claimed. One text from Spencer predicted a "violent summer."
In fact, Spencer was in near-daily contact with full-time organizer and defendant Elliot Kline, exchanged 88 texts with defendant Christopher Cantwell, and hosted parties at his apartment -- known as the "fash loft" -- attended by Unite the Right organizers in the lead-up to the violence.
During questioning about the torch march, Spencer admitted the marchers surrounded UVA students, including two of our plaintiffs, and refused to let them go as a deliberate show of "dominance." As already noted, the students suffered assaults and racial abuse while trapped by Spencer and others.
The jury also heard that -- even after the death of Heather Heyer and all the injuries to counterprotesters -- Spencer described Unite the Right as "amazing" and a "moral victory in terms of the show of force."
• Michael Hill - The final defendant to testify this week was Michael Hill, president of defendant group League of the South. Hill readily and proudly admitted to being a white supremacist, racist, antisemite, homophobe, xenophobe, and Islamophobe -- who was happy to coordinate with other neo-Nazi and white supremacist groups because they had a common enemy: Jews and Black people.
He acknowledged promoting the violent event, including tweeting "Antifa, BLM, et al will be there to greet us. It will be fun!" After he denied that the tweet had anything to do with confrontation, our attorney Alan Levine showed Hill another statement he'd written: "We wanted a public confrontation in Charlottesville for the world to see and we got it."
League of the South members were at the center of the violence on August 12, and video showed Hill leading a column directly into protesters (including plaintiff Devin Willis) and various other violent confrontations involving the group. Our plaintiffs presented statements from Hill saying he "wouldn't change a thing" about Unite the Right, and that his "warriors had acquitted themselves as men."
Asked if he'd indeed said that, he answered: "I certainly did and I'd say it again."
Coverage of the trial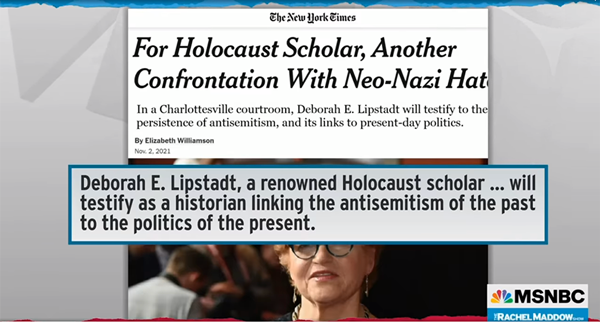 In a blog post this week, our good friend and partner Eric Ward of the Western States Center wrote:
"America is starting to have a serious conversation about white nationalism and political violence. That conversation is now on the nightly news, thanks to Integrity First for America bringing a civil suit to hold white nationalists accountable for the deadly Charlottesville riot..."
We're proud that our case is helping to give this conversation the urgency it deserves -- and that it's showing people we are not powerless in the face of white supremacist violence.
Here are some media highlights from the week (and you can always find more in our Newsroom):