Federal Court Grants Further Evidentiary Sanctions Against Neo-Nazi Robert "Azzmador" Ray – Establishing Key Facts Ahead of Landmark Charlottesville Trial
By: Integrity First For America Press Releases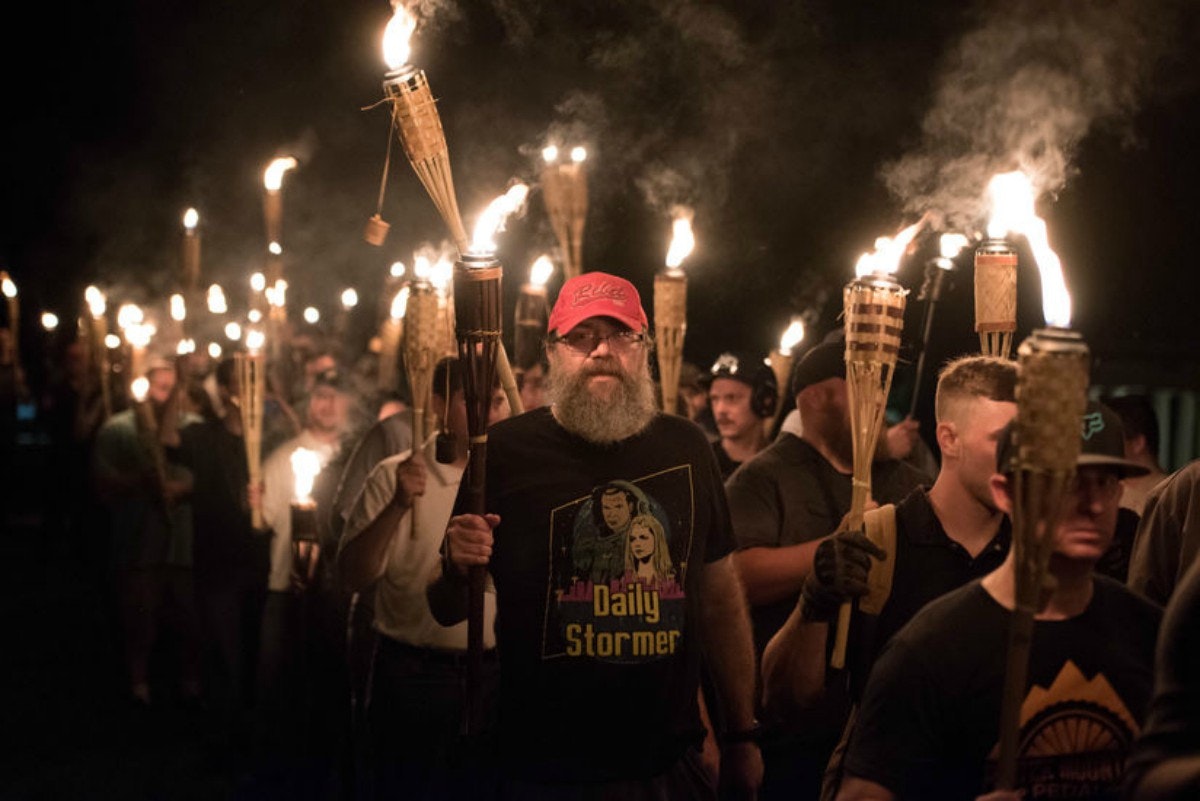 Ray Was a Central Leader of Unite the Right Violence
At Trial Next Month, Jury Will be Instructed to Treat as Established Fact that Ray Conspired to Engage in Racially-Motivated Violence in Charlottesville, Among Other Key Facts
Plaintiffs Have Won Adverse Inferences Against Four Defendants and Established Similar Facts Against Defendant Elliot Kline
CHARLOTTESVILLE – A federal judge granted evidentiary sanctions against neo-Nazi leader Robert "Azzmador" Ray in Sines v. Kessler—the landmark federal lawsuit backed by Integrity First for America against the neo-Nazis, white supremacists, and hate groups responsible for the Unite the Right violence.

In today's opinion, U.S. Magistrate Judge Joel Hoppe of the Western District of Virginia granted plaintiffs' motion to deem authentic all documents, photos, and videos from a number of Ray's social media accounts, and ordered that a number of key facts be taken as established against Ray for the purposes of this civil action.

It is now established fact in the case that Ray "entered into an agreement with one or more coconspirators to engage in racially-motivated violence in Charlottesville, Virginia" on August 11 and 12, 2017; that Ray "was motivated by animus against racial minorities, Jewish people, and their supporters when conspiring to engage in acts of intimidation and violence"; that "it was reasonably foreseeable to Ray and intended by him that coconspirators would commit acts of racially-motivated violence and intimidation"; and that Ray "ratified the racially-motivated violence" after Unite the Right.

Ray has spent over three years flouting his discovery obligations, evading plaintiffs' multiple attempts to depose him, and repeatedly disobeying court orders. Even after plaintiffs sought and obtained multiple court orders to compel, Ray failed to provide crucial documentary evidence, all while remaining active on social media.

These evidentiary sanctions follow adverse inferences against Ray, which means the court will instruct the jury that he chose to intentionally withhold his documents, and that the jury may infer that he chose to withhold such documents because he was aware that such documents contained evidence that he conspired to plan racially-motivated violence at Unite the Right. The court has also found Ray in contempt of court and issued a bench warrant for his arrest.

Trial in Sines v. Kessler is scheduled for October 25, 2021 in federal court in Charlottesville. The lawsuit seeks to hold accountable two dozen white supremacist leaders and hate groups under the Ku Klux Klan Act of 1871 and other federal and state laws. It details a racially-motivated violent conspiracy that was meticulously planned in advance, including via Discord chats that included discussion and memes of hitting protesters with cars.

Ray was one of the most vocal, violent, and central leaders of the attack on Charlottesville. IFA's lawsuit details how Ray and his fellow defendants meticulously planned the violence for months in advance. At the time of Unite the Right, Ray was a writer for the Daily Stormer, which was the most visited and influential hate site on the internet. Through articles posted on the Daily Stormer, Ray promoted and facilitated the events in Charlottesville in advance of August 2017, including instructing followers to bring tiki torches, pepper spray, and shields. Ray was an active participant on Discord, telling others in advance of the events that he would "be there gassing these people," referring to counter-protesters, and that Unite the Right was "a war, not a party."

During the violent weekend itself, Ray marched in the torch march on August 11, 2017, and, as he later openly admitted, used pepper spray to attack counter-protesters. Among extensive evidence detailed in the complaint, Ray shouted, "The heat here is nothing compared to what you're going to get in the ovens!" while counter-protesters were violently attacked on the University of Virginia campus. The following day, August 12, 2017, Ray took a lead role in directing the action; carried a banner that read, "Gas the k*kes, race war now!"; and later celebrated the violence as a success for the white supremacist movement.

In addition to the evidentiary sanctions against Ray, plaintiffs have already won adverse inferences against three other defendants — Elliot Kline (aka Eli Mosley), Vanguard America, and National Socialist Movement — and have additional pending motions for adverse inferences against James Fields and Matthew Heimbach. The jury will also be instructed to treat as established fact core allegations against Kline, similar to the facts established against Ray today. These evidentiary sanctions follow significant monetary sanctions against three key defendants, as well as bench warrants for the arrest of Ray and Kline.

"Today's decision establishes key facts that are at the core of our plaintiffs' case. 'Azzmador' Ray was central to the racist, violent conspiracy in Charlottesville four years ago – and this ruling will have an enormous impact in proving that conspiracy at trial next month. No matter how these defendants flout accountability, our team is committed to bringing them to justice," said Integrity First for America Executive Director Amy Spitalnick.

"Robert Ray has spent years flouting his discovery obligations. This order holds him to account," said plantiffs' counsel Jessica Phillips, Partner at Paul Weiss Rifkind Wharton & Garrison, LLP.

"Despite defendants' best efforts, our country is still governed by the rule of law. Today's ruling vindicated that principle by making it clear that no one, not even the defendants in our case, can repeatedly thumb their noses at court orders and expect to get away with it. We look forward to further vindicating that principle at trial in our case next month," said co-lead counsel Roberta Kaplan, Founding Partner at Kaplan Hecker & Fink, LLP.
###
Integrity First for America (IFA) is a nonpartisan nonprofit organization dedicated to holding those accountable who threaten longstanding principles of our democracy—including our country's commitment to civil rights and equal justice. IFA is backing the landmark federal lawsuit against the two dozen neo-Nazis, white supremacists, and hate groups responsible for the August 2017 violence in Charlottesville. Trial is scheduled for October 2021. To learn more about the case, click here.