Federal Court Grants Evidentiary Sanctions Against Neo-Nazi Hate Group National Socialist Movement In IFA's Charlottesville Suit
By: Integrity First For America Press Releases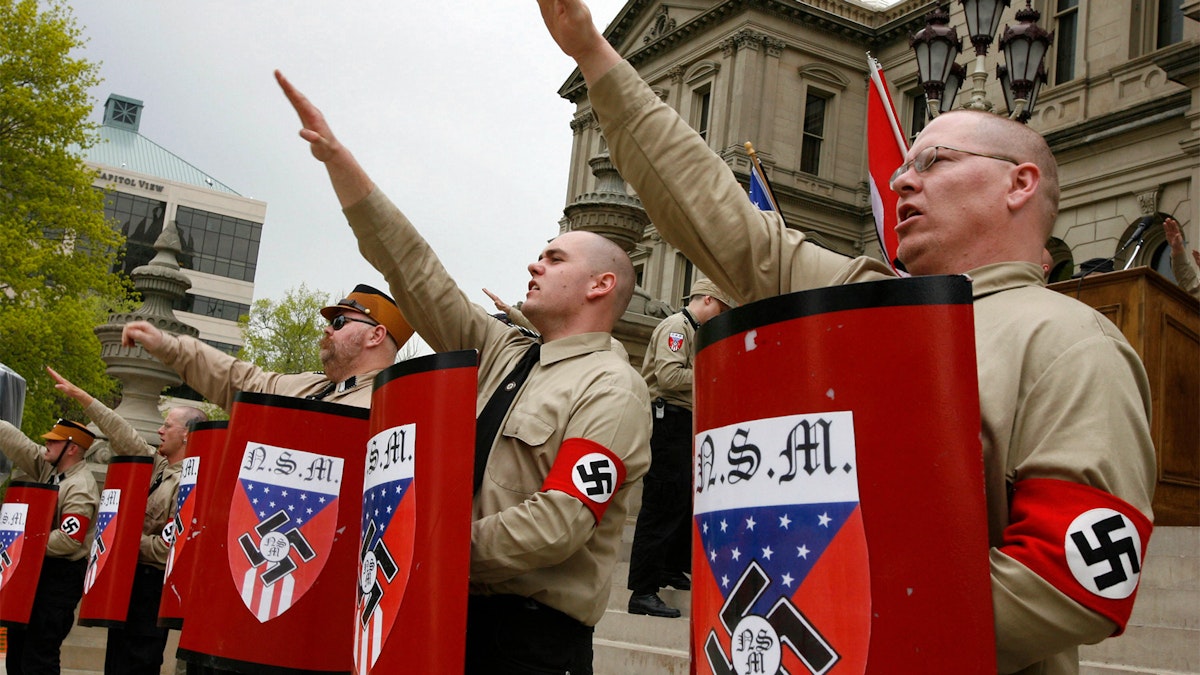 SPLC
Federal Court Grants Evidentiary Sanctions Against Neo-Nazi Hate Group National Socialist Movement In IFA's Charlottesville Suit
Plaintiffs Have Now Won Adverse Inferences Against Four Defendants
NSM and Its Leaders Repeatedly Ignored Court Orders, Stonewalled Discovery, and Destroyed Documents and Other Potential Evidence in Sines v. Kessler
Trial is Scheduled for October in Charlottesville in IFA's Landmark Lawsuit, Which Alleges a Racially-Motivated Violent Conspiracy in Violation of the Ku Klux Klan Act
CHARLOTTESVILLE – A federal judge granted plaintiffs' motion for evidentiary sanctions against neo-Nazi hate group National Socialist Movement (NSM) in Sines v. Kessler – the landmark federal lawsuit backed by Integrity First for America against the neo-Nazis, white supremacists, and hate groups responsible for the Unite the Right violence in Charlottesville. Plaintiffs had detailed how National Socialist Movement repeatedly ignored court orders, stonewalled discovery, and destroyed and failed to preserve documents and sources of potentially responsive information. NSM and its former commander Jeff Schoep were key organizers of the Unite the Right violence.

These sanctions -- known as adverse inferences -- are a type of evidentiary sanction for the spoliation or withholding of evidence. In this new order, U.S. Magistrate Judge Joel C. Hoppe of the Western District of Virginia granted plaintiffs' request for a permissive adverse inference instruction against NSM, finding that "Defendant NSM has made clear that it will not fulfill its discovery obligations."

Plaintiffs will now submit their proposed language to the District Judge to inform jury instructions.

"These defendants have tried every possible trick to avoid accountability -- and our plaintiffs are committed to holding them accountable," said Integrity First for America Executive Director Amy Spitalnick. "Plaintiffs have now won adverse inferences against four defendants, which will have significant impacts in court this fall. Even before trial, this lawsuit has made clear the consequences for orchestrating racist violence and flouting court orders."

Earlier this year, plaintiffs won adverse inferences against defendants Robert "Azzmador" Ray, Vanguard America, and Elliot Kline (aka Eli Mosley). The jury will specifically be instructed to treat as an established fact that Kline "entered into an agreement with one or more co-conspirators" to commit racially-motivated violence in Charlottesville, among other facts. Those adverse inferences followed significant monetary sanctions against other defendants, as well as bench warrants for the arrest of two defendants found in contempt of court.

Trial in Sines v. Kessler is scheduled for October 2021 in federal court in Charlottesville. The lawsuit seeks to hold accountable two dozen white supremacist leaders and hate groups for their racially-motived violent conspiracy under the Ku Klux Klan Act of 1871 and other federal and state laws.

NSM members remain central to the cycle of white supremacist violence in America. In spring 2020, an NSM member attempted to bomb a Missouri hospital treating coronavirus patients. Another -- who previously carried a machete and hatchet into an Ohio convenience store, said he was looking to kill Jews at Kent State University, and was featured in a viral photo holding a sign that said Jews are "the real plague" at an anti-lockdown protest -- was indicted on federal weapons charges last summer.

In their motion for sanctions last fall, plaintiffs detailed years of efforts by NSM, its leaders, and its counsel to avoid accountability. Despite a court order fully granting plaintiffs' motion to compel evidence from NSM, the organization's counsel W. Edward ReBrook IV has continuously refused to turn over basic information while ignoring plaintiffs' attempts to contact him. Eight months after the document production deadline and nearly three months after the close of discovery, plaintiffs were still waiting for basic information needed to begin discovery into NSM's responsive documents, accounts, and devices.

NSM's current leader, Burt Colucci, has admitted on multiple occasions to destroying responsive documents containing information related to NSM members and to deleting email accounts that had been used for responsive communications.

NSM and Colucci have also intentionally impeded access to accounts by providing incorrect credentials, changing passwords without notice, and failing to resolve two-factor authentication issues. Acacia Dietz -- the girlfriend of defendant and former NSM commander Jeff Schoep, and ReBrook's current legal assistant -- stated that Colucci both provided the vendor responsible for evidence collection with nonworking credentials and immediately logged on to change the passwords without providing them to the vendor.

The plaintiffs are a coalition of Charlottesville community members injured in the violence. They have repeatedly sought to hold NSM and its co-defendants accountable for their actions and discovery obligations.
###

Integrity First for America (IFA) is a nonpartisan nonprofit organization dedicated to holding those accountable who threaten longstanding principles of our democracy -- including our country's commitment to civil rights and equal justice. IFA is backing the landmark federal lawsuit against the two dozen neo-Nazis, white supremacists, and hate groups responsible for the August 2017 violence in Charlottesville. Trial is scheduled for October 2021. To learn more about the case, click here.