January Newsletter
By: Integrity First For America Blog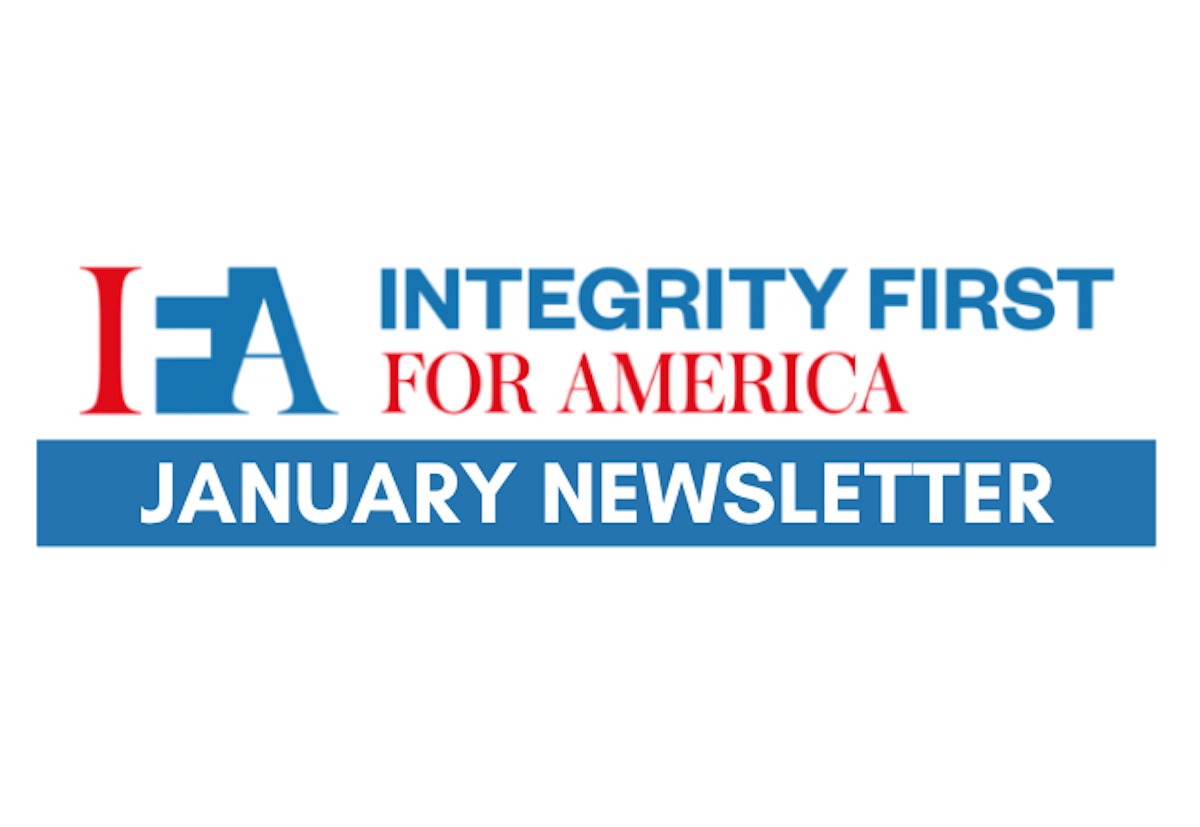 January 2021
1. The Capitol Attack

When insurrectionists stormed the Capitol, the violence had eerie parallels with the 2017 Charlottesville attack. Both were planned in advance on social media. Both were motivated by violent far-right extremism. Their vile ideology was clear: from "Camp Auschwitz" shirts, to confederate flags, to a noose.

Photo: Mike Theiler/Reuters
Some of the defendants in our Charlottesville case were cheerleaders of the violence, including neo-Nazi Andrew Anglin who celebrated the attack after months of encouraging violence—fueled by election disinformation—on his hate site the Daily Stormer.

In this op-ed by IFA Executive Director Amy Spitalnick and Charlottesville lead counsels Roberta Kaplan and Karen Dunn, they highlighted the chilling connections between Charlottesville and the Capitol. The insurrectionists followed the same violent playbook—and must be held accountable.

Since the attack, the threat of violence has only grown—and could fuel extremist recruitment for years to come. The Department of Homeland Security issued an extraordinary bulletin this week warning that the attack could inspire further violence, driven by conspiracies and disinformation.

The answer is justice and accountability. If we as a small nonprofit can take on these white supremacists and neo-Nazis in court and financially cripple them, imagine what can be done by the Justice Department, criminally and civilly, using the current tools that they have.

Please check out the recent media coverage of our lawsuit and how it provides a model for accountability—from the AP to the New York Times to the Daily Beast to JTA. Visit our newsroom to read more.
2. Our Charlottesville Lawsuit

This month, our plaintiffs filed a motion for default judgment against neo-Nazi hate group Nationalist Front—detailing its central role in the conspiracy responsible for the Charlottesville violence and the group's total refusal to take part in this litigation.

This news followed a major win in our case in which the court granted evidentiary sanctions—including adverse inferences—against neo-Nazi Elliott Kline. The judge will instruct the jury to treat as fact that Kline conspired to commit racially-motivated violence in Charlottesville.

This huge win against defendant Kline affirms a central allegation of our case, effectively giving our plaintiffs a direct win against a key defendant. Read more about how our lawsuit is having major financial and operational impacts on our defendants even before trial.
3. Expert Witness Reports

Reports filed by expert witnesses play a key role in our Charlottesville lawsuit, two of which are now available to read here on our website.

Leading expert on antisemitism Deborah Lipstadt assessed the symbols and rhetoric on display at Unite the Right, writing, "This report opines that the ideology, symbolism, and rhetoric that were on display at the Unite the Right rally fit comfortably within a long tradition of antisemitism and share in the tradition that led to the violent murder of millions of Jews during the Holocaust."

Engineer Stephen Fenton investigated and reconstructed the Charlottesville car attack that killed Heather Heyer and injured a number of plaintiffs.
4. IFA Events

Following the Capitol attack, Roberta Kaplan and Amy Spitalnick joined WNYC's Jami Floyd and the Marlene Meyerson JCC Manhattan for a virtual event to discuss the Capitol attack, the rising tide of white supremacy, and our Charlottesville suit:
We also joined the Jewish Democratic Council of America for an important virtual event to discuss this recent violence, which you can watch here.

We have a number of upcoming events this February to further discuss how we can hold violent extremists accountable—and we hope you can join us.
----------
At a moment when we're facing record levels of domestic terror, antisemitism, racism, and hate crimes, the urgency of taking on this hate and violence is clear.

At IFA, we're focused on justice, holding accountable the neo-Nazis and white supremacists who attacked Charlottesville.

Our case provides a model for how to take on the broader conspiracy responsible for the Capitol insurrection—and help ensure that the playbook seen both in Charlottesville and at the Capitol can never be used again.