June 2020 Newsletter
By: Integrity First For America Blog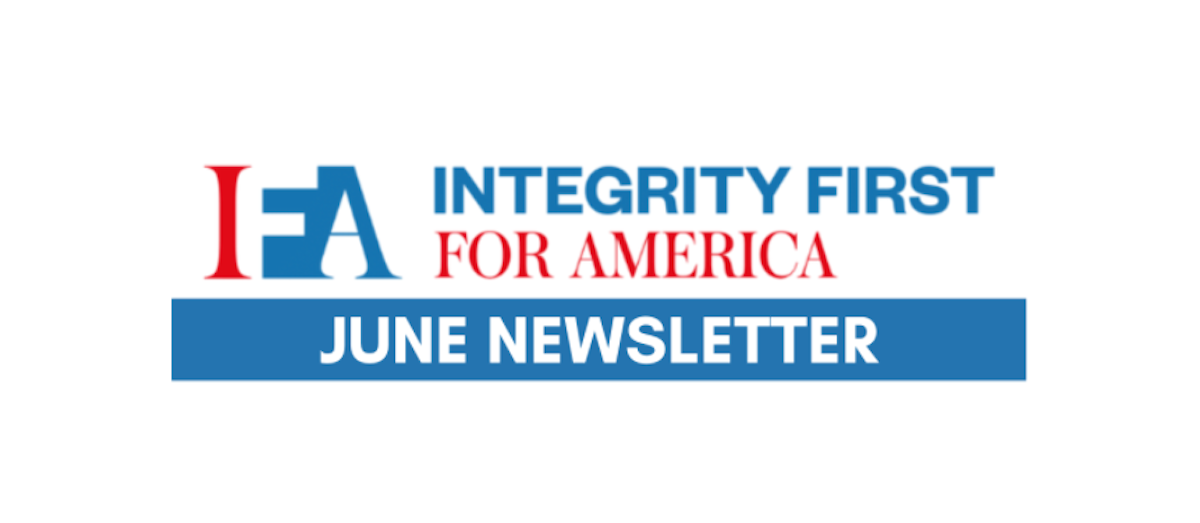 Here are some of the major updates this month in our Charlottesville case and the broader fight against violent extremism in America.
1. Neo-Nazi defendant Richard Spencer recently told the court that our Charlottesville lawsuit has been "financially crippling."

This follows Spencer's comment last year that our case is "totally detrimental to what [he's] doing" — part of the suit's much larger financial, legal, and operational impacts on this violent movement, even before we get to trial and win large financial judgments against these neo-Nazis.
2. In the latest win, the court granted our plaintiffs' motion to compel discovery from neo-Nazi hate group National Socialist Movement (NSM).

NSM, its current commander Burt Colucci, and former commander Jeff Schoep all face potential sanctions and contempt of court for failure to fully comply with these orders.

"No matter how these neo-Nazi defendants try to scam our plaintiffs or the court, they cannot avoid accountability for the racist violence they brought to Charlottesville," said IFA Executive Director Amy Spitalnick.
3. Lawyers for our neo-Nazi defendants have spoken out about how their own clients have impeded the discovery process. Their lawyers have said they're impossible to work with, in one case describing their conduct as "repugnant."

These neo-Nazi defendants have tried every trick in the book to avoid accountability. We're proceeding full speed ahead toward trial this fall — and we're not letting them off the hook.
4. Sadly but unsurprisingly, far-right extremists continue to try to exploit this moment to spread disinformation, hate, and violence and distract from the core issue at hand: racial justice.

AP Photo/Noah Berger
Identity Evropa — a white supremacist group that's a defendant in our Charlottesville suit — posed as "antifa" in a viral tweet that urged violence and looting in white neighborhoods.

Armed extremists have also been showing up to protests in hopes of a "boogaloo" — their code for a second civil war.

Three of these alleged "boogaloo" extremists were indicted for trying to incite violence at Black Lives Matter protests in Las Vegas. Another was charged with killing a Santa Cruz deputy and a federal security officer — and injuring others — during two separate attacks in California.

Las Vegas Metro Police Department via Las Vegas Review-Journal
Meanwhile, in Virginia, an admitted KKK leader drove his car into a crowd of protestors. As we saw in Charlottesville, the use of car attacks has become a deliberate tactic of white supremacists. NPR found that there have been at least 50 vehicle-ramming incidents since protests began in late May.

We're tracking how white supremacists and other far-right extremists continue to try to exploit this moment here: White Supremacists and Other Extremists Exploiting this Moment.
5. A new CSIS report underscores the fact that violence by far-right extremists is among our country's most dangerous terrorist threats.

"Right-wing attacks and plots account for the majority of all terrorist incidents in the United States since 1994, and the total number of right-wing attacks and plots has grown significantly during the past six years. Right-wing extremists perpetrated two thirds of the attacks and plots in the United States in 2019 and over 90 percent" this year.
6. We're continuing to spread the word about our case and the fight against violent extremism through a series of virtual programs — including this recent event with IFA's Amy Spitalnick and Charlottesville counsel Michael Bloch, sponsored by a broad coalition of St. Louis organizations: Taking White Supremacy to Court — The Charlottesville Case.

We also joined the Jewish Council on Public Affairs and Eric Ward of the Western States Center for a conversation on white nationalism, racism, and antisemitism in America.
Our Charlottesville case continues to move full speed ahead — and we won't stop fighting until these neo-Nazis and white supremacists are held accountable for the violence they orchestrated.