Court Fully Grants Charlottesville Plaintiffs' Motion To Compel Discovery From Neo-Nazi Defendant Jeff Schoep
By: Integrity First For America Press Releases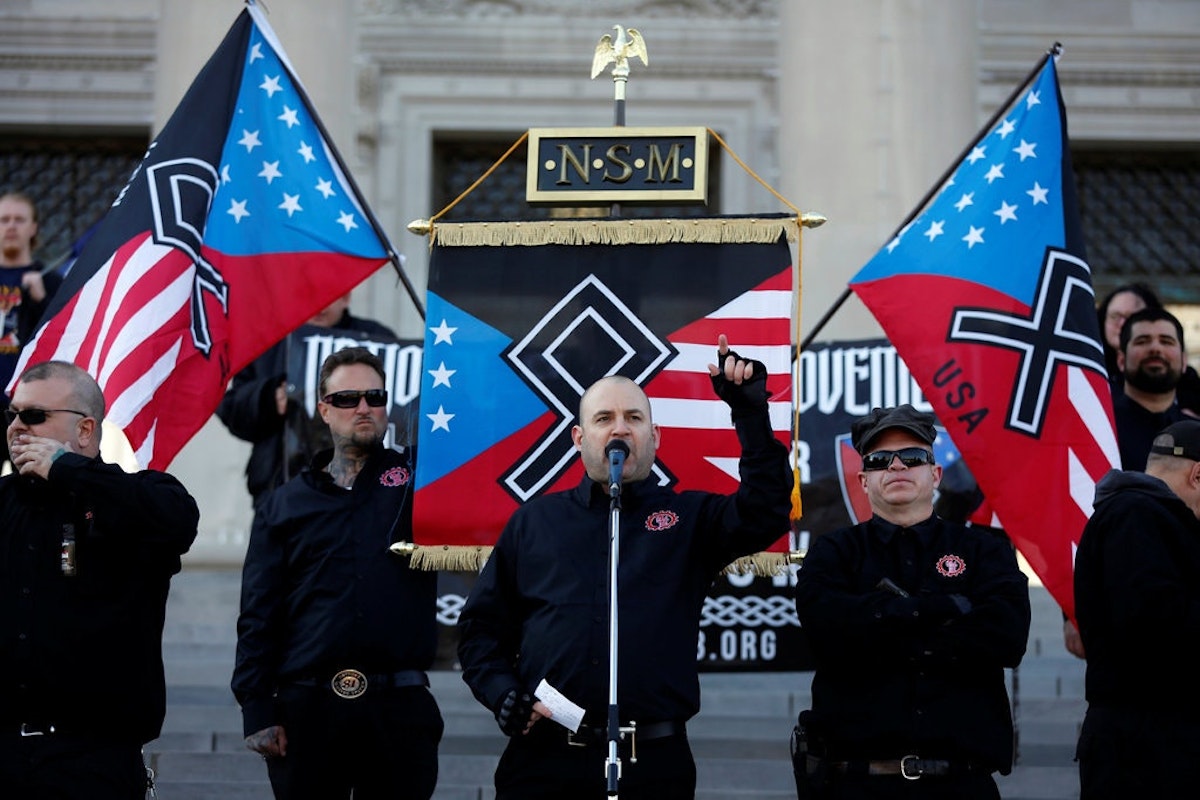 Photo: Jim Urquhart/Reuters
Today's Order Follows Yesterday's Decision Awarding $41,300 in Sanctions Against Three Other Neo-Nazi Defendants in Sines v. Kessler, IFA's Landmark Lawsuit Against the Individuals and Groups Responsible for the Unite the Right Violence
Schoep Has Repeatedly Tried to Avoid Accountability; Court Orders Him to Immediately Turn Over Previously Undisclosed Phone, Social Media Accounts, and Other Evidence and Pay Fees, Also Warns He May Face Additional Sanctions and Contempt of Court
CHARLOTTESVILLE – Today, a federal court fully granted plaintiffs' motion to compel discovery from defendant Jeff Schoep — the former leader of neo-Nazi hate group National Socialist Movement — in Sines v. Kessler, the landmark federal lawsuit backed by Integrity First for America against the neo-Nazis, white supremacists, and hate groups responsible for the Unite the Right violence. Today's order follows a separate order yesterday awarding $41,300 in sanctions against three other defendants in the suit.
Today the court ordered Schoep to send in his phone for imaging and collection of evidence by June 1st; the third-party vendor will provide plaintiffs with all relevant evidence from Schoep's social media accounts and devices by June 8th. Schoep will also have to pay plaintiffs' expenses, including attorney's fees. The court warned that Schoep's failure to fully comply may result in additional sanctions and/or contempt of court.
As the plaintiffs detailed in their March 2020 motion to compel, Schoep's conduct in this litigation reflects a pattern and practice of resistance, recalcitrance, and outright defiance of Court orders and his discovery obligations.
Schoep and NSM were key organizers of the Unite the Right violence in Charlottesville over August 11 and 12, 2017. The lawsuit backed by IFA details how the defendants meticulously planned the violence for months in advance (including via social media and other online channels). The plaintiffs are a coalition of Charlottesville community members injured in the violence. They have repeatedly sought to hold the defendants accountable for their actions and discovery obligations. Trial is scheduled for October 2020.
The plaintiffs first served Schoep with discovery requests in January 2018. Since then, he has "done everything in his power to avoid complying with his discovery obligations—in fact, Schoep produced nothing at all until after plaintiffs moved for sanctions against him," as plaintiffs' motion stated.
In April 2019, the court sanctioned Schoep and ordered him to immediately turn over critical evidence; yet Schoep and his attorney produced just a trickle of non-responsive documents, while also sitting on a trove of other responsive and discoverable material, including a new cell phone.
Schoep has also repeatedly claimed that he's left NSM and the white supremacist movement. Yet plaintiffs' motion quotes sworn testimony by current NSM commander Burt Colucci, revealing that "Schoep has simultaneously remained in steady communication with Colucci throughout this litigation from his new phone, including making discoverable communications regarding topics relevant to this litigation." Plaintiffs sought those communications, including text messages and telephone records regarding Unite the Right, from the previously undisclosed phone—none of which were produced to the plaintiffs or to the third-party vendor for imaging.
"These orders make it clear: our plaintiffs won't allow these neo-Nazis and white supremacists to avoid accountability for the racist violence they brought to Charlottesville," said IFA Executive Director Amy Spitalnick. "As we've long said, if Mr. Schoep truly wants to change, there is one way to do so: start complying with our plaintiffs' discovery requests, stop lying, and tell the truth about his role in Charlottesville in August 2017. Anything less is a sham."
Other defendants have already faced significant sanctions for flouting discovery orders. In January, defendant Elliott Kline (aka Eli Mosley) was thrown in jail and sanctioned thousands of dollars; last year, the plaintiffs won sanctions against defendants Kline, Matthew Heimbach, Vanguard America, and Schoep. As mentioned above, yesterday the court order Heimbach, Kline, and Vanguard America to pay $41,300 in penalties.
###
Integrity First for America (IFA) is a nonpartisan nonprofit organization dedicated to holding those accountable who threaten longstanding principles of our democracy—including our country's commitment to civil rights and equal justice. IFA is backing the landmark federal lawsuit against the two dozen neo-Nazis, white supremacists, and hate groups responsible for the August 2017 violence in Charlottesville. Trial is scheduled for October 2020. To learn more about the case, click here.